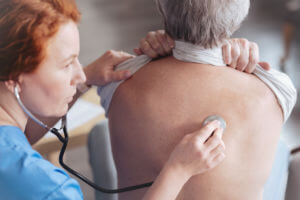 Thousands of people in the U.S. get sick from the flu each season. Children and the elderly are particularly susceptible to getting the flu. Being sick with the flu can disrupt a person's life and lead to several days of illness. Severe cases of the flu can result in serious complications, including the development of bacterial pneumonia, ear infections, sinus infections and the worsening of chronic medical conditions like congestive heart failure or diabetes. In the worst cases, death can occur.
Since the flu is so common, you may think that you do not have a claim against a doctor who does not diagnose you with this condition. However, there are some situations when you may have a medical malpractice claim against your doctor for flu misdiagnosis. The West Palm Beach medical malpractice attorneys at our firm can see if you qualify in a free consultation.
Reasons Why the Flu Is Often Misdiagnosed
Symptoms of the flu are shared by the common cold and many other medical conditions, increasing the likelihood of a misdiagnosis. If a health care provider fails to run the proper test or note the patient's symptoms, a misdiagnosis can occur and treatment can be delayed.
During cold and flu season, doctors are often inundated with patients. They may complete a subjective and hurried evaluation without taking the extra steps to properly diagnose the patient. This may cause a patient to receive a snap diagnosis after only being seen for a few minutes.
Flu symptoms include:
Sore throat
Headache
Cough
Sneezing
Runny or stuffy nose
Body aches and pains
Fever
Chills
Fatigue
Vomiting and diarrhea
These symptoms may be mistaken for other conditions, such as:
Common cold – The common cold is caused by a virus and mimics many flu symptoms. However, these symptoms gradually develop and are usually less severe than those of the flu.
Gastroenteritis – This condition is commonly referred to as the "stomach flu" but is not actually influenza. It is caused by a variety of viruses. Symptoms of gastroenteritis are more closely related to the gastrointestinal tract.
Pneumonia – Pneumonia is a lung infection that is caused by viruses, bacteria, fungi or chemical or environmental factors. It can also be a complication of the flu. Colored mucus is a unique symptom of this condition.
Bronchitis – This condition is an inflammation of the bronchial tubes in the lungs. It can be caused by viruses or environmental factors like cigarette smoke. Patients with this condition may have a cough with mucus, shortness of breath or chest discomfort.
A Doctor's Duty to Diagnose Your Illness
Doctors are expected to use their knowledge and skills developed in their profession to properly diagnose patients. Doctors have a legal duty to accurately diagnose patients' medical conditions by applying the standard of care expected of them.
Your doctor may violate this duty in any number of ways, including:
Not spending enough time with a patient to accurately diagnose him or her
Dismissing patient complaints or assume the patient is exaggerating symptoms
Failing to administer the proper test
Failing to properly document all reported symptoms
Assuming that a negative flu test is accurate when there are indications it is not
If you think that your misdiagnosis was due to any of these factors, contact an experienced medical malpractice lawyer for help.
When a Doctor Is Liable for Medical Malpractice
Even if your health care provider misdiagnosed your flu, he or she will not automatically be liable for your resulting illness. To have a viable malpractice claim, you must be able to establish the following:
You had a doctor-patient relationship with the health care provider and the health care provider administered care or examined you
Your health care provider violated the standard of care expected of a similarly trained doctor
The misdiagnosis caused you harm
You suffered damages as a result of the misdiagnosis
Speak With Our Firm If You Have Been Misdiagnosed
The medical malpractice lawyers at Gordon & Partners have the experience and resources necessary to competently handle your medical malpractice claim. If you have a valid claim, we can conduct a thorough investigation to determine the factors that contributed to your misdiagnosis. We are prepared to seek maximum compensation for any damages sustained.
Call 1 (855) 722-2552 today to schedule your free consultation.