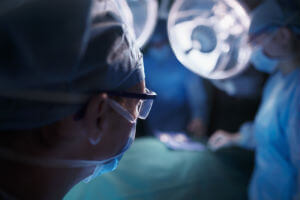 Surgeons and surgical staff are some of the most highly trained and qualified medical professionals in the country. However, when they fail to provide the proper care or make an error during surgery, they may be liable for medical malpractice.
When this situation arises, it is important that you retain the services of a licensed West Palm Beach medical malpractice attorney. We are prepared to review your situation during a free consultation to determine whether you may have a valid claim to seek compensation for the harm you have suffered.
When Surgical Errors Could Be Malpractice
Surgeons are expected to provide medical care that is consistent with their advanced education and experience. However, it is not uncommon for them to make surgical errors, such as:
Wrong site surgery – This occurs when the wrong body part is operated on.
Wrong patient – Unnecessary surgery is performed on a patient. This can occur when patients' medical records get mixed up.
Foreign object left in body – A surgeon may accidentally leave a scalpel, sponge or wound dressing or other item inside a patient that he or she is operating on.
Organ or nerve damage – The surgeon may accidentally nick an organ or nerve.
Infection – Unsanitary medical equipment may result in the patient suffering an infection.
Not all surgical errors rise to the level of medical malpractice. The mistake must be of a nature that it falls below the accepted standard of care within the medical community and causes injury to a patient.
The level of care is that which a health care provider with the same training and experience would provide under similar circumstances. Expert testimony is usually necessary to establish what the applicable standard of care was and how the health care provider's care fell below it.
Reasons Surgical Errors Occur
Surgical errors can occur for a variety of reasons, including:
Unqualified treatment – The health care provider may lack the necessary skills or training to complete the medical treatment competently.
Insufficient preoperative planning – If the surgeon is not properly prepared for surgery, mistakes can happen. The surgeon may not adequately consider possible complications that may arise or may fail to sterilize necessary equipment. The surgeon may not have quick access to the medical instruments he or she needs, which causes an unnecessary delay in treatment.
Poor communication – Surgical staff may fail to communicate with other health care providers to learn about possible complications or medication allergies.
Fatigue – Surgeons may be required to work on multiple complex surgeries in a day and may suffer from lack of rest.
Drug or alcohol use – Some surgeons or staff members may have drug or alcohol dependence problems that can negatively affect the care they provide.
Complications From a Surgical Error
Surgical errors can cause serious harm to patients and result in life-threatening or debilitating complications, such as:
Organ damage
Nerve damage
Internal bleeding
Disfigurement
Scarring
Infection
Sepsis
Disability
In the gravest circumstances, careless errors by surgeons can result in patient deaths.
Filing a Claim for Surgical Negligence
If your surgeon was negligent in his or her care, you may be able to file a claim for compensation with the help of an experienced medical malpractice lawyer. You may be eligible to pursue compensation for the full extent of damages you sustained, including:
Corrective surgeries
Ongoing rehabilitation and physical therapy
At-home care
Modifications to your home or vehicle
Prescription medication
Lost wages
Lost earning capacity
Pain and suffering
Contact Us for a Free Consultation
If you were harmed by a surgeon's error, it is in your best interest to work with a lawyer who has extensive knowledge and experience handling medical malpractice cases.
Gordon & Partners has taken on many cases involving doctor and hospital negligence and have successfully recovered millions in compensation on behalf of our clients. Our lawyers are ready to handle all legal aspects of your claim so you can focus on your recovery.
Contact us today to schedule a free consultation. No upfront fees unless you obtain a recovery.
Learn more about your legal options by calling 1 (855) 722-2552.