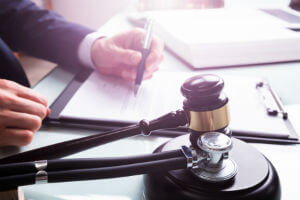 Medical malpractice is more common than most people realize. Victims of medical malpractice seeking compensation for their injuries may find it hard to win a case at trial, which is why these cases often lead to negotiated settlements. The odds of a good outcome with legal representation on your side is greater than without one.
An experienced lawyer will have the resources to properly investigate the incident and help you collect the evidence needed to support a claim for medical malpractice.
Learn more about getting fairly compensated for your losses by reaching out to our legal team at Gordon & Partners. A initial consultation with us is free and if your claim has merit, we are prepared to protect your rights so that you can focus on your recovery.
Proving Negligence and Causation
Before a lawyer can help determine the value of your losses, two important things must be proven:
The doctor or medical professional was negligent
The medical professional's negligence directly resulted in your injuries and losses
Although these requirements sound straightforward, proving them is complex. While you may know that something happened for a fact, it could be harder to prove what happened.
Proving negligence requires gathering evidence that shows the doctor or medical professional failed to act with due care. He or she did not provide the standard of care that another reasonable doctor with the similar training, education and experience would have done.
You would need proof of what are the generally accepted medical practices specific to the location and time that you suffered harm. For instance, a doctor cannot be found negligent for conducting a procedure that did not become a generally accepted medical practice until after the date of your injury.
Proving causation, on the other hand, is much more complicated. For instance, a patient may have an underlying medical condition that was not caused by the negligent doctor. However, the doctor could potentially be held liable for medical malpractice due to prolonging or exacerbating the condition.
Another problem that may arise for a medical malpractice victim is with contributing factors. For instance, a medical professional may have failed to diagnose a condition that required an operation but cannot be held liable if the patient had a bad reaction to the anesthesia provided. The injury must be related to a misdiagnosis in order to have a valid claim.
Negotiating the Value of a Medical Malpractice Claim
After determining that a doctor or medical professional is liable for causing your injuries, the value of your medical malpractice claim can be negotiated. This value could include compensation for all of the losses that you have sustained due to poor medical care, such as:
Pain and suffering, both physical and mental, beyond what was caused by the original condition
Loss of wages from being unable to work because of the doctor's negligence and not because of the underlying condition
Loss of future earning capacity as the result of suffering a permanent injury
Approval From a Medical Professional
Generally, claims for minor incidents are usually settled by the medical professional's insurer, regardless of whether he or she accepts fault. In medical malpractice cases, however, medical professionals often have a final say on whether a settlement is approved compared to normal personal injury cases. A settlement would have a direct impact on their malpractice insurance. If a medical professional strongly believes that he or she did not cause harm, settling outside of court may be difficult.
How Settlement Payments Are Issued
Once a settlement or verdict is reached, you will be issued payment for your losses. There are two ways that a medical malpractice victim can collect his or her settlement:
Structured payment – These payments are often awarded in cases involving minors or birth-related injuries. The court would set up a fund to make sure that the victim has money for long-term medical treatment.
Lump sum payment – These payments are less complicated and preferred by the victim and his or her lawyer as it allows more options to set up funds to help cover past, future and current medical expenses.
Settlement payments are typically sent to the victim's lawyer who would deposit it into an escrow account. After any outstanding balances are paid off, including legal fees and costs, the victim is paid.
Reach Out for Legal Help Today
If you have suffered an injury caused by negligent treatment, it is in your best interest to reach out to a licensed West Palm Beach medical malpractice lawyer at our firm for legal help. We have decades of experience negotiating settlements for medical malpractice claims. We are prepared to work hard to protect your rights and help you obtain the compensation you need, even if going to court is necessary.
Schedule a free consultation to learn more about your legal options. You are not obligated to hire us and you do not pay any upfront fees unless and until you obtain a fair recovery.