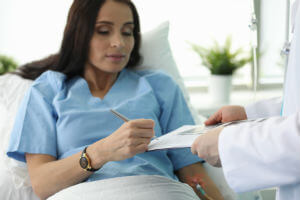 Patients who undergo medical procedures must often sign a waiver or release form acknowledging the risks involved. However, when a medical procedure does not go as planned or results in serious health complications, you may be wondering if this waiver will prevent you from taking legal action against the health care provider who performed the procedure.
Our West Palm Beach medical malpractice lawyers define what a waiver is and discuss if it would affect your ability to file a medical malpractice claim if you are injured due to negligence.
What is a Waiver?
Before having a medical procedure, you will be asked to give the health care provider your informed consent to perform the procedure. You will be given a waiver or release form to sign in which you confirm that you understand the inherent risks of the procedure and that you agree to not hold the doctor or hospital responsible for any injuries or damages suffered after undergoing the procedure.
Although this may seem like a reasonable exchange, the reality is that many patients sign these waivers without knowing that they cannot sue if something goes wrong or without fully understanding the risks.
Can I Take Legal Action?
A waiver will not prohibit you from taking legal action in every case. There are some situations in which you may still be able to file a medical malpractice claim and pursue compensation.
For instance, a waiver generally only protects the hospital or doctor who performs the medical procedure from known risks and complications often associated with performing the procedure. These waivers, however, may not necessarily cover injuries caused by preventable actions that fall below the accepted medical standard of care.
A waiver will also not protect a health care provider from harm due to gross negligence. This type of conduct is reckless and would not have happened under the care of a reasonable health care provider with the same education, training and experience. Acts of gross negligence could include leaving surgical instruments inside a patient's body or operating on the wrong patient or body part.
Besides emergency procedures, a doctor must get consent from a patient before performing a medical procedure. Unauthorized treatment that causes you harm could be grounds to file a medical malpractice claim if you were not made aware of the known risks of the procedure or you were made aware and refused the procedure.
Need Help With a Medical Malpractice Claim?
If you signed a waiver and suffered an injury, we want to help you. Contact our legal team at Gordon & Partners for a free consultation to review your situation and determine whether you have a valid claim. You may be eligible to pursue compensation to help cover past, current and future medical expenses.
Our firm charges nothing up front to retain our services. We only get paid if you obtain compensation.
Get a better understanding of your legal options today. Call 1 (855) 722-2552.