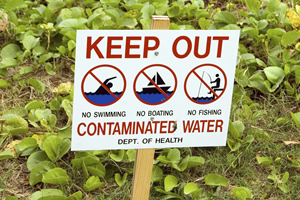 As improvements in technology allow us to detect impurities in very low concentrations of water, supplies that were once considered pure have now been found to have contaminants. While it may be unreasonable to expect completely pure water, it is not irrational to want safe water.
If your drinking water has been contaminated by the actions or negligence of another person or entity, you may be able to pursue legal recourse for damages.
To begin exploring your legal options, simply complete the Free Case Evaluation form to the right.
Contaminated Drinking Water
Drinking water can become contaminated at the original water source, during treatment or during distribution to the home. Water can be exposed to a variety of different contaminants. It usually depends on the original source.
Water that comes from surface water, such as a river or lake, can be exposed to:
Acid rain
Storm water runoff
Pesticide runoff
Industrial waste
Surface water can often be cleansed naturally through exposure to sunlight, aeration and micro-organisms in the water.
Water that comes from ground water, such as private wells and some public water supplies, can take longer to become contaminated. Because groundwater moves slowly and is not exposed to sunlight or micro-organisms, the natural cleansing process can taking much longer when contamination does occur. Groundwater can become contaminated by:
Disease-producing pathogens
Leachate from landfills and septic systems
Careless disposal of hazardous household products
Agricultural chemicals
Leaking underground storage tanks
Levels of contaminants in drinking water are rarely high enough to cause immediate health effects, such as nausea, lung irritation, vomiting, dizziness, skin rash and possibly death. Water contaminants are much more likely to cause chronic health effects from long-term, repeated exposure to small amounts of a particular chemical. Some examples of chronic health effects typical of those exposed to contaminated water include:
Cancer
Liver disease
Kidney damage
Nervous system disorders
Damage to the immune system
Birth defects
Four Types of Contaminants
Water contaminants can be separated into four different categories: microbial pathogens, organics, inorganics and radioactive elements.
Microbial Pathogens
This type of contaminant usually poses serious health risks. Pathogens are disease-producing micro-organisms. This includes bacteria, parasites and viruses. Pathogens can get into drinking water when the water source is contaminated by sewage or animal waste, or when wells are improperly constructed and sealed. Microbial pathogens can cause:
Gastroenteritis
Salmonella
Dysentery
Shigellosis
Hepatitis
Giardiasis
Organics
Many people worry about potentially toxic chemicals and metals in water; however, only a few of the toxic organic chemicals that are found in drinking water are regulated by drinking water standards. These include:
Trihalomthanes (THMs): Formed when chlorine used in the treatment of water combines with naturally occurring organic matter.
Pesticides: Includes herbicides, insecticides and fungicides.
Volatile organic chemicals (VOCs): Includes solvents, degreasers, adhesives, and gasoline and fuel additives.
Inorganics
Inorganic contaminants include toxic metals like silver, mercury, lead, chromium, barium and arsenic. This type of contaminant can get into the water supply through natural sources, industrial processes and materials used in plumbing systems. Toxic metals have been known to cause acute poisoning, cancer and other serious health effects.
Radioactive Elements
Radioactive contaminants are typically more of a health concern when it enters a home as a soil gas as opposed to when it occurs in water supplies; however, radon contamination should never be taken lightly.
Drinking Water Standards
The Safe Water Drinking Act of 1974 directed the U.S. Environmental Protection Agency (EPA) to ensure that public water systems and non-community water systems meet minimum standards in order to protect public health. The act directed the EPA to establish minimum drinking water standards in order to limit the amount of various contaminants. Amendments were made to strengthen the law in 1986. The law requires the EPA to:
Set required schedules for water systems to monitor for contaminants in drinking water.
Identify best available technologies for removing excess contaminants from water.
Issue variances and exceptions to systems that cannot comply with maximum contaminant levels (MCLs), unless an unreasonable risk to health exists.
Notify the public when drinking water standards are violated.
Ban the use of lead pipes, solder, fittings and flux in public water systems.
Enforce penalties for violators of drinking water standards at the state and local level.
Protect groundwater sources.
Contact an Experienced Toxic Water Attorney
When water becomes contaminated due to the actions or negligence of an individual or entity, or if contaminant levels should have been detected and people become sick as a result, we believe that the responsible parties should be held accountable.
At Gordon & Partners, we are dedicated to fighting for the rights of those who have been harmed by another.
If your water has been contaminated and you or your loved ones suffered as a result, you may have cause to file a toxic water lawsuit.
In an effort to help all Florida residents who believe they may have cause to file a claim, we offer free case evaluations. During an evaluation, a member of our legal team will review the merits of your potential claim and guide you on the best course of action in pursuing legal remedies for your losses.
For more information on the legal rights which may be available to toxic water victims and their families or to schedule a confidential, no-obligation consultation with one of our attorneys , please complete the Free Case Evaluation form on this page.