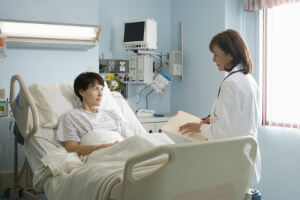 Acquiring an infection while at a medical facility is not uncommon, and certain surgical procedures may increase the chance of an infection. However, when an infection is caused by negligence or if standard guidelines are not followed by doctors, nurses and other members of hospital staff, the negligent party could be held liable.
At Gordon & Partners, we strive to negotiate compensation on your behalf while protecting your rights. If you sustained an infection during or immediately following a hospital stay, it is important that you contact a medical malpractice lawyer in West Palm Beach immediately to determine if you have a medical malpractice case and are entitled to compensation for your injuries.
Types of Hospital Acquired Infections
Some of the most common types of infections that are acquired at hospitals include:
Surgical Site Infections
These infections appear close to or in the surgical incision site. These infections are often caused by lack of proper sanitation and cleaning during the procedure or during post-operative care. They can be caused by unsanitary rooms or materials.
Device-Related Infections
Devices that are inserted into the body, such as catheters, breathing tubes and IVs that have not been cleaned properly may cause infection. Complications from device-related complications can cause dangerous health risks, including:
Respiratory Infections
Medical facilities are often ridden with bacteria, fungi and viruses, which can be found in the air and on materials throughout the building. When one of these viruses is inhaled, patients may experience a respiratory infection. While they are difficult to detect, these types of infections are easy to contract.
Determining if You Have a Case
If you believe you your hospital-acquired infection could have been prevented, you must be able to prove the elements of medical malpractice in order to sue the medical facility or healthcare professionals responsible for the infection. This requires providing proof that:
The healthcare provider had a doctor/patient relationship with you
The healthcare provider had an obligation to provide you with care that fell within accepted standards of the medical community
The healthcare provider's care fell below this standard due to his or her negligent conduct
This negligence or breach of duty is the direct cause of your infection
You suffered some kind of damages because of the infection, such as additional medical bills
Malpractice suits for infections are difficult to win as it is often difficult to prove when and how an infection occurred. It can be difficult to determine if the infection occurred during surgery, while caring for the wound, while the patient was still in the hospital or after the patient left.
In some cases, the cause of the infection may not be grounds for a medical malpractice case, but the way that it was treated is. For instance, if a medical professional failed to test you for infections that patients are prone to while staying in a hospital, causing your infection to worsen or lead to death, that medical professional could be held liable. Similarly, if your infection was not treated appropriately or in a reasonable time, you may have a case.
It is best to contact a reputable attorney as soon as possible after developing a hospital-acquired infection so our team can determine if you have a case. We will investigate the circumstances surrounding your infection to determine if your infection was caused by negligence and could have been avoided and who could be held liable for your damages.
According to Florida's medical malpractice statute of limitations, you have only two years from the date of the incident or from when it was first discovered to file a medical malpractice case. Do not wait to contact our attorneys .
Contact Our medical malpractice attorneys
If you have suffered an infection after staying in a hospital, you should contact the trusted medical malpractice attorneys at Gordon & Partners for a free, no obligation consultation.
These infections can have serious consequences, and it is important to talk over the circumstances of your infection with a knowledgeable attorney who can help you determine if you have a case and pursue compensation for the damages that you have sustained.
Contact Gordon & Partners by calling 1 (855) 722-2552.