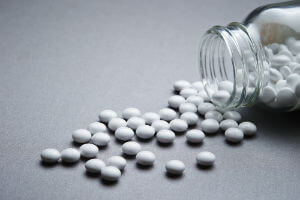 Medical errors are the third highest cause of death in the United States and account for 10 percent of deaths in the U.S., according to a study by Johns Hopkins School of Medicine. And with nearly 30 percent of adults taking five or more medications at any given time, according to the Centers for Disease Control and Prevention, there is plenty of opportunity for medication errors to occur.
If you or a loved one has been injured by a medication error, contact the West Palm Beach medical malpractice attorneys at Gordon & Partners to find out if you are entitled to compensation. We will provide you with a free, no obligation consultation where our personal injury attorneys will review the circumstances surrounding your claim to determine if a health care provider's error caused your injury.
What Is a Medication Error?
Doctors, pharmacists and other health care providers have a duty to protect the health and safety of their patients. This requires them to be careful and follow strict protocol for prescribing and administering medication.
Some common ways that health care providers make medication errors include:
Prescribing the patient with the wrong type of medication
Giving the wrong dosage of medication to the patient
Administering the medication to the patient in an improper manner
Mislabeling a prescription medication
Failing to ask the patient about potential allergies or current prescription and over-the-counter medications the patient is taking
Prescribing medication that negatively interacts with other medications the patient is taking
Failing to warn the patient about the potential side effects of a prescription medication
Who Could Be Held Liable for a Medication Error?
Any health care provider that deals with a patient's medications can potentially be held liable for committing a prescription drug error. This includes:
Physicians – Doctors can potentially be held liable for a medication error by prescribing the wrong type or dosage of medication to a patient, failing to clearly write the prescription for the pharmacist to understand, or neglecting to gather enough information about a patient's current medications that may result in an adverse reaction with the new type of medication.
Nurses – A nurse could also be held liable for administering the wrong type or dosage of medication or failing to administer the medication to the patient in the proper manner.
Pharmacists – A pharmacist may be held liable for a medication error if he or she mislabels medication, fails to keep track of a patient's allergies or other medications that may cause an adverse reaction to the drug, or fails to warn the patient of the drug's potential side effects.
Hospitals – If a member of a hospital's staff commits a medication error that results in the patient's injury or death, the hospital could potentially be held liable for the actions of its employee.
Pharmaceutical manufacturer – A manufacturer can be held liable for a medication error if it mislabels the medication or fails to adequately warn patients and the medical community about the possible side effects associated with the drug.
Proving Your Medication Error Case
However, just because an error was made does not automatically mean you have grounds for a medical malpractice lawsuit. The error must have been a result of negligence or carelessness in order to have a case. This requires that:
You took the medication according to the doctor or pharmacist's specific instructions.
The at-fault party failed to use reasonable care when prescribing your medication, filling your prescription or administering the drug. This requires evidence showing that the at-fault party failed to act as others with similar training would have.
You were injured as a result of the error.
You suffered measurable damages as a result of the at-fault party's negligence. Measurable damages refers to the financial losses you have suffered since the medication error occurred, such as incurring additional medical expenses or lost wages.
Your attorney will review your situation to determine if it meets these requirements. We will conduct a thorough investigation into your medication error and determine if you have a case and are entitled to compensation.
Find Out if You Have a Case
If you were injured or lost someone you love as a result of a medication error made by a negligent health care provider, contact Gordon & Partners today for a free consultation.
We are dedicated to providing effective legal representation to patients who were injured by the careless actions of health care providers and will commit to helping you obtain the compensation you deserve.
Our attorneys will discuss the details of your case during a free, no obligation consultation to help you understand the legal options that are available to you. If we determine that you have a case against a negligent health care provider, we will handle your case without charging you any fees for our services unless we help you recover compensation for your claim.
Call 1 (855) 722-2552 to get started today.