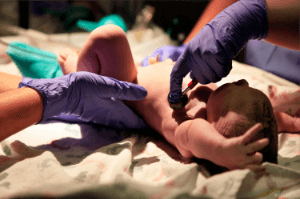 January is National Birth Defects Prevention Month. The 2019 theme is "Best for You. Best for Baby." While many birth defects in the U.S. are preventable, a child can still be born with complications resulting from medical negligence due to inadequate care and improper treatments during the course of pregnancy.
The National Birth Defects Prevention Network and Outreach Committee have developed materials to assist state programs increase awareness about birth defects and how advocating for pregnant mothers will also help their babies.
If you believe that your baby was injured because of the negligence of your health care provider, the skilled West Palm Beach medical malpractice attorneys at Gordon & Partners can help. Our attorneys can thoroughly investigate your claim and determine what contributed to your child's injury and identify all responsible parties. Contact us to schedule a free case evaluation.
Causes of Birth Defects
Birth defects can be caused by a number of factors. Known contributing factors include:
Smoking, drinking alcohol or taking illegal substances during pregnancy
Having certain medical conditions, such as obesity or diabetes that are untreated or not monitored
Taking certain medications known to cause birth defects
Genetic predisposition of having a birth defect
Getting pregnant at age 34 or older
Severe illness or infection during pregnancy
For these factors, mothers can take steps to prevent birth defects.
Tips for Preventing Birth Defects
Many of the birth defects that are caused by the factors listed above can be prevented through proper care and communication. According to the Centers for Disease Control and Prevention, expectant mothers should follow these tips to increase the likelihood of having a healthy baby:
Take 400 micrograms of folic acid every day, starting at least 30 days before getting pregnant.
Do not smoke, drink or take illegal drugs.
Communicate with your health care provider about any prescription and over-the-counter medications you are taking.
Avoid being around contagious people during your pregnancy.
Wash your hands with soap and water many times throughout the day to decrease the likelihood of becoming ill.
Receive ongoing treatment for any existing medical conditions and try to control these conditions.
Receive regular prenatal care during your pregnancy.
How Birth Defects Can Be Caused by Medical Malpractice
Unfortunately, not all birth defects can be prevented. Sometimes, the acts of your health care provider cause a birth defect. The following situations may involve medical malpractice:
Baby is too large – A baby that is eight pounds 13 ounces is considered too large and should be delivered before reaching this weight, if possible.
Prolonged labor – If a mother is not able to naturally deliver after many hours, health care providers must usually consider other options to safely deliver the baby. Delaying or failing to perform a C-section can cause injury to the mother and child.
Injuries caused by instruments – Health care providers who use forceps or a vacuum may injure the baby with these instruments.
Nontraditional delivery position – Babies who are born in a breeched position may suffer birth defects.
Learn More About Your Legal Options During a Free Consultation
Most birth defects can be prevented with proper care and attention from medical providers. However, if your baby suffered a birth defect, the health care provider's negligence may have caused this defect, and you deserve to be compensated.
The experienced attorneys at Gordon & Partners can discuss your legal options during a free consultation. We charge no upfront legal fees unless we help you recover compensation.
We look forward to helping you. Call 1 (855) 722-2552 now.