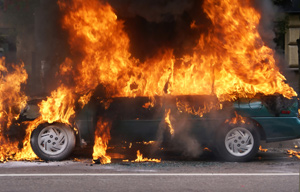 A Jeep in St. Petersburg went up in flames on Sept. 5 after it appears that the owner's Galaxy Note7 smartphone exploded while charging in the vehicle.
The Jeep was parked in the driveway of the man's home and was left running so the cellphone could charge. Luckily, no one was in the vehicle at the time of the explosion and no one was injured in the fire. The vehicle, however, was damaged beyond repair.
Millions of Smartphones Recalled
The incident occurred just days after Samsung issued a worldwide recall of the newly released Galaxy Note7 after multiple users reported phones catching fire or exploding while charging. The company has also stopped all sales of the phone.
The Galaxy Note7 is the latest smartphone from Samsung and was released on Aug. 19. On Sept. 2, the company recalled an estimated 2.5 million units for what it called a "rare manufacturing process error."
According to the company, an internal investigation determined that there is an issue with the phone's battery cell, which can cause it to overheat.
The company is urging owners of the phone to trade in the defective device for a new Samsung Galaxy S7 or Galaxy S7 Edge, which can be used until replacement Note7 devices are available or can be kept for permanent use.
Just a few days after the recall announcement the Federal Aviation Administration issued a warning to passengers strongly advising them not to turn on or charge the devices on board an aircraft. The administration also advised passengers against stowing the phones in checked baggage.
Rechargeable batteries are known to have overheating issues. In December 2015, more than 500,000 hoverboards were recalled after reports that the board's battery pack could potentially overheat and start a fire.
If a faulty product has seriously injured you or damaged your belongings, you may be entitled to compensation. The product liability attorneys of Gordon & Partners are committed to holding manufacturers responsible for their malfunctioning goods, and we will work to maximize your settlement.
Call 1 (855) 722-2552 or complete a Free Case Review form today.