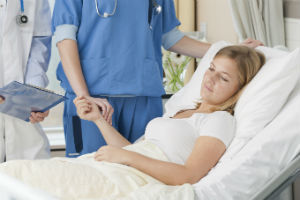 Seven South Florida hospitals will see a one percent reduction in Medicare payments for 2016 as a penalty for high rates of potentially avoidable mistakes and injuries to patients.
Hospital acquired infections can be especially dangerous for patients who are already in a weakened state in the hospital. If you or someone you loved has suffered from an illness or injury while staying in a hospital, the South Florida medical malpractice lawyers at Gordon & Partners can help you get the compensation you deserve.
Hospitals from Palm Beach to Monroe counties will face penalties. They include:
Broward Health Coral Springs
Good Samaritan Medical Center
Jackson Memorial Hospital
Lower Keys Medical Center
Memorial West
West Kendall Baptist Hospital
Westside Regional Medical Center
This will be the second consecutive year that Jackson Health System in Miami-Dade and Broward Health Coral Springs have been penalized under the two-year-old program. Both are supported by tax-payer dollars.
The Hospital Acquired Conditions Reduction Program was initiated in 2015 as a mandated program under the Affordable Care Act aimed at reducing hospital injuries by holding the institutions financially accountable for the quality of care they provide.
The law requires a reduction in payments for hospitals that have the highest rates of hospital acquired infections, which includes infections from urinary catheters, blood clots, bed sores, and other avoidable and preventable conditions. The program also takes into account the number of patients who are readmitted to the facility within a month, as well as patient satisfaction scores.
A total of 758 hospitals across the country will see reductions for the federal fiscal year, which runs through September 2016.
Overall, South Florida hospitals seem to be improving under the program. In Miami-Dade, only two of the five hospitals that were fined in 2015 will also be fined again in the coming year. Although the same number of hospitals in Broward face penalties again in 2016, only Broward Health Coral Springs has faced fines in both years.
Both Jackson Health System and Broward Health Coral Springs have instituted new policies and procedures to improve patient care at their facilities.
If you or a loved one has become a victim of medical malpractice, contact a personal injury attorney in West Palm Beach today.
Call 1 (855) 722-2552to schedule a free consultation today.