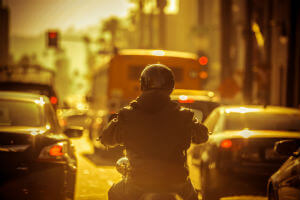 Lane splitting often ends in accidents that result in severe injuries or even death. If you or a loved one was hurt in a lane splitting accident, it is imperative to contact a skilled West Palm Beach motorcycle accident lawyer at Gordon & Partners for help.
Our attorneys can review your case, answer any questions you may have about the accident and evaluate your legal options during a free consultation.
What is Lane Splitting?
Lane splitting happens when a motorcyclist drives between two lanes of stopped or slow-moving traffic. Many motorcyclists who engage in lane spilling can cause serious accidents. The following tips may increase safety when around those engaging in lane splitting:
Stay alert of your surroundings and any motorcyclists around you
Check blind spots for motorcyclists or other motorists
Look for those changing lanes to avoid a collision
Some motorcyclists drive fast and will speed through lanes, so be sure you check all mirrors and be mindful of the traffic around you.
Is Lane Splitting Legal in Florida?
According to Florida's lane splitting laws, it is illegal to deprive another driver of the full use of a lane. Lane splitting can lead police to pull over the motorcyclist if he or she does overtake, pass or cause disruption to another vehicle. This includes operating a motorcycle between lanes in traffic or on the lane lines.
However, it is legal for motorcyclists to share a lane with one other motorcyclist. This is called lane sharing. If there are more than two motorcyclists sharing the same lane, they could be pulled over and ticketed in Florida.
Who is Liable for a Lane Splitting Accident?
Since lane splitting is illegal in Florida, a motorcyclist that engages in this activity is almost always liable for damages and the incident. The act of lane splitting may cause the accident, could harm other drivers and often leads to property damage. However, it is possible that another driver's degree of negligence may exceed that of the motorcyclist. If this is the case, the motorcyclist may be able to pursue a claim against the other motorist.
The Dangers of Lane Splitting
When compared to other motorcycle accidents, lane splitting is dangerous for a number of reasons. Motorcycles are much smaller than other vehicles. When a motorcycle collides with a passenger vehicle, the motorcyclist may sustain serious or fatal injuries. If the motorcyclist is going fast and weaving in and out of lanes, the risk of sustaining a serious injury increases.
When the motorcycle zips by and gets too close to another vehicle, it could cause an immediate collision. The motorcycle is more difficult to see on the road, and there are blind spots with passenger vehicles that make it difficult to observe bikers behind or to the side of the driver. When lanes are full of traffic, it is not easy to turn or change lanes, especially when a motorcycle is traveling between lanes.
To file a valid claim for a lane splitting accident, you must prove that negligence occurred. To establish the motorcyclist's liability, you may have to prove the following:
The motorcyclist was speeding or weaving in and out of lanes
The biker was driving between lanes
The motorcyclist has a history of unsafe driving
The biker was more dangerous than other drivers when lane splitting
Contact an Attorney for Legal Help
If you were injured in a lane splitting accident, contact our skilled legal team at Gordon & Partners. Our skilled personal injury attorneys in West Palm Beach can discuss your legal options after a lane splitting accident. We can help you through every aspect of your case to pursue fair compensation.
Contact us to schedule a free, no obligation consultation. There are no upfront legal fees or costs to worry about. You only pay us if we help you recover the compensation you are entitled.
Fill out our Free Case Evaluation form or call 1 (855) 722-2552 today to get started.