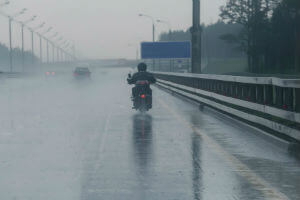 While the safest way to get to your destination is not to drive during adverse weather condititions, you may confront a pop-up shower or be unable to avoid riding in the rain. By being prepared for inclement weather, you can stay safe on the road.
A West Palm Beach motorcycle accident attorney at Gordon & Partners have prepared a list of safety tips to ensure you have a more safe and pleasant ride through the rain. If you have been injured in a motorcycle accident, contact us to schedule a free consultation to review your legal options.
Plan Your Route
If possible, avoid routes where rain may occur. Establish some alternate routes in case the rain becomes a downpour so you have some safe ways out of the bad weather. Try to include routes that have rest stops or businesses so that there is shelter.
Wear the Right Gear
Wearing the right gear is an important precautionary measure and can help you stay safe in less than ideal weather. When potentially riding out in rainy conditions, suit up in the following:
Water-resistant clothing – Jackets, pants and one-piece suits come in water-resistant and waterproof options. Clothing with good water protection is often durable, lightweight as well as tear resistant. Clothing should be in bright colors so other motorists can see you. This is important because visibility is further decreased in the rain.
Waterproof riding boots – Pick riding boots that are waterproof and will prevent water from penetrating your clothing.
Waterproof gloves – Wear waterproof gloves that fit tight and prevent water from finding a path inside the rest of your clothing.
Helmet – A full-faced helmet provides the best protection from water. It should be equipped with an anti-fog visor, breath guard or a visor with an electric defrost function. Riders who use a partial face mask should pack goggles to wear in case of rain.
Inspect Your Bike
Before heading out in inclement weather, inspect your bike. Perform the following maintenance on a regular basis:
Tires – Tread depth is important if riding in the rain so that your tires can channel water. Check tire pressure so that your tires are not overinflated or underinflated.
Oil and brake fluid – Make sure your bike has no leaks. If your bike leaks oil or brake fluid and it mixes with water on the road, it can make the surface underneath slippery and potentially

cause you to lose control of the vehicle.

Brakes – Make sure your brakes are in good working order so that you can quickly stop during bad weather.
Be Alert of Wet Riding Conditions
Motorcyclists should be aware of the dangers that wet roads present. Some of these include:
Reduced Traction
When water hits the pavement, it makes the road slippery and reduce the traction on your tires. The most dangerous time to ride in the rain is within the first hour of a storm. If possible, riders should take a break and try to wait out the rain.
Hydroplaning
Hydroplaning occurs when a layer of water develops on the road and prevents direct contact between the tires of a vehicle and the road. The vehicle travels on top of the water. Hydroplaning is more common when there is a buildup of water. Slow down as much as you can and squeeze your clutch. Avoid riding over the following road hazards as they can reduce tire grip:
Manhole covers
Puddles of water
Metal crossings
Decreased Visibility
It is more difficult to see when it is raining for both motorcyclists and other motorists. Be sure to wear reflective or brightly-colored clothing to increase your visibility on the road.
Increased Braking Distance
You must increase your braking distance due to the lack of traction when the roads are wet. Avoid slamming on your brakes on wet roads so you do not crash your bike.
Contact a Skilled Attorney Today
Riding a motorcycle in the rain is not the same as riding in dry weather. Rain brings changes to the road surface and your visibility, so you need to adjust your riding technique and watch your speed.
Sometimes, even if you take all necessary precautions to stay safe, you may still wind up in a motorcycle accident despite your best efforts to avoid one. If your accident was caused by another person's negligence, a skilled personal injury attorney in West Palm Beach can help.
At Gordon & Partners, we can discuss your claim during a free consultation. If we determine that you have a viable claim for compensation against a negligent driver, we can discuss your legal options. You are under no obligation to retain our services. If you do decide to pursue your case with us, you owe us no attorney fees unless we successfully recover compensation on your claim.
Call 1 (855) 722-2552 today to see how we might be able to help you.