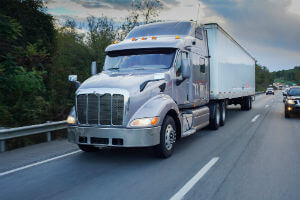 The aftermath of a truck accident can be very confusing. Often, several parties are involved in a single trucking operation, which can make it difficult to know which one is at fault when a trucking accident occurs.
For this reason, it is important to know an experienced truck accident attorney in West Palm Beach who understands the commercial trucking industry and which parties may be at fault for a crash involving a semi-truck.
Gordon & Partners's West Palm Beach personal injury lawyer s can help you navigate the process of filing a claim against one or more parties that may have caused a truck accident, including:
Truck Driver
Truck drivers are one of the leading causes of truck accidents, often after committing a reckless or negligent action while at the wheel of the vehicle.
The experienced lawyers at Gordon & Partners will investigate the driver involved in your accident to find out if he or she has a history of driving record violations.
Some common reasons why a truck driver may cause an accident include:
Driver fatigue
Distracted driving
Drug or alcohol impairment
Speeding
Ignoring traffic signals or signs
Medical problems
Reckless driving
Violating hours of service rules
Additionally, we can review the data from the black box event recorder to determine if the truck driver was speeding or failed to brake in time to prevent an accident.
Trucking Company
Typically, trucking companies are held responsible for the actions of drivers under their employ. If one of their drivers causes an accident due to his or her negligence, the trucking company can be liable for any resulting damages.
Additionally, trucking companies are responsible for hiring qualified truck drivers who have the skills and experience to handle driving a commercial semi-truck for long-distance hauls. This also includes conducting a background check on drivers to find out if they have a poor driving record or a history of drug and alcohol violations.
Trucking companies may also be held responsible for accidents that are caused by poor maintenance. Trucking companies are required to perform routine maintenance inspections on commercial vehicles to ensure that they are safe on the roadway. An experienced attorney can review truck maintenance logs to determine if the accident may have been the result of mechanical failure.
After the truck drivers are hired, the trucking company has a duty to properly supervise the acts of their employees, including testing for drugs and alcohol. If the driver drives while impaired, the trucking company may be held liable for the accident.
Other times when the trucking company may be held liable include when the trucking company:
Fails to test its drivers for drugs and alcohol
Neglects to hire qualified drivers
Fails to properly train drivers
Hires drivers with poor driving records
Forces drivers to violate the hours of service rule by making unrealistic deadlines
Some trucking companies may attempt to avoid liability for an accident by claiming the driver is an independent contractor and not an official employee. However, our attorneys will review several aspects of the driver's terms of employment to determine if the trucking company is liable for his or her actions.
Vehicle and Part Manufacturers
Another common cause of truck accidents is a defective automotive part that resulted in vehicle failure, such as:
Transmission failure
Brake failure
Steering system failure
Defective lighting
Tire blowouts
In this situation, you may be able to file a product liability claim against the vehicle or automotive part's manufacturer to hold it liable for the accident.
An experienced attorney can check if the vehicle had a defective part installed in it that was already subject to a recall.
Loading Company
Commercial trucking companies often outsource loading responsibilities to another company that is responsible for ensuring that cargo is safely secured.
If the cargo is not loaded in a proper manner or safely secured, the cargo may fall out of the back of the vehicle or shift while in motion, potentially leading to a tip over. If this occurs and causes an accident, the loading company may be held liable for the resulting damages.
Contact a Lawyer
If you were injured in a truck accident, it is important that you contact a knowledgeable attorney for assistance with your claim.
At Gordon & Partners, our experienced attorneys have a strong understanding of the commercial trucking industry and the laws that regulate trucking companies and their drivers. We will use this knowledge to help you build a case and pursue the compensation you deserve.
We can discuss the specifics of your case to determine the legal options that may be available to you during a free, no obligation consultation. Our attorneys work on a contingency fee basis, which means you only have to pay us if we recover compensation for your claim.
Call 1 (855) 722-2552 to get started today.