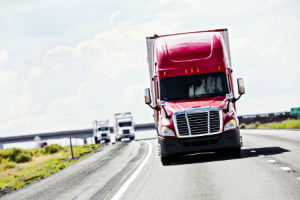 Florida and the Federal Motor Carrier Safety Administration (FMCSA) have specific insurance requirements when it comes to commercial trucks. It is important to understand these requirements in case you are involved in an accident with a truck.
The skilled West Palm Beach truck accident attorneys at Gordon & Partners are experienced at filing claims against negligent truck drivers and trucking companies. We understand trucking insurance requirements and can assist you with your truck accident claim.
Minimum Liability Coverage
Under Florida law, all motorists are required to carry liability insurance with a minimum limit of $10,000. However, the commercial trucking industry is governed by a different set of insurance requirements. The minimum amount of liability coverage required depends on the type of cargo the trucks are hauling, such as:
Household goods – $300,000
General freight – $750,000
Oil transport – $1,000,000
Hazardous materials – $5,000,000
Truck drivers who travel out of state must meet all FMCSA federal liability limits, which are usually between $750,000 and $1,000,000.
In Florida, truck drivers must have insurance that covers the following:
Personal injury protection covers the driver regardless of fault up to the policy limits. This type of insurance helps pay for injury-related costs for anyone involved in the truck accident. This could include medical bills, loss of income due to a disability and household services.
Property Damage Liability
Property damage liability covers damages the truck driver causes to your vehicle. This could include repairing or replacing your vehicle altogether.
Bodily Injury Liability
Bodily injury liability coverage pays for serious and permanent injuries or death to others that the truck driver causes. The insurance company pays for injuries up to the limits of the policy. Additionally, this coverage provides legal representation for the truck driver or company if sued.
Other Types of Coverage Available
Trucking companies can carry more insurance than just the minimum amounts. Some other types of coverage include:
Medical payments – This type of insurance pays for medical expenses due to injuries that are caused under the commercial truck insurance policy. Many carriers offer up to $10,000 for medical payments.
Collision coverage – This coverage pays for damages to the truck if it is damaged in a collision.
Towing and labor – This type of insurance pays for towing or service costs for a truck.
Comprehensive coverage – This type of insurance pays for damages caused by theft, vandalism or damages caused by hitting an animal. It may also cover damage to glass.
Hired truck insurance – This type of insurance provides liability protection when a person is driving a truck that he or she does not own and is not registered to that person.
Non-owned truck – This insurance provides liability protection a trucker has to occasionally use his or her own personally-owned truck for business purposes.
Uninsured motorist – This coverage pays for medical expenses, lost wages, death benefits and other damages caused by a motorist who did not have insurance or sufficient insurance to cover these damages.
Filing a Florida Truck Insurance Claim
Filing a Florida truck insurance claim is similar to filing a typical insurance claim. Your attorney can handle this process for you. The claim begins by sharing information about the accident. A claims representative is then assigned to your case.
Liability will be determined and a percentage of fault will be assigned between the parties or full liability will be determined. Your attorney will work with you to establish your claim and will submit medical records and other information to the insurance company. In most situations, the case will settle within policy limits.
Contact Gordon & Partners for a Free Legal Consultation
If you were injured in a truck accident, it is important that you seek medical and legal assistance. The experienced personal injury attorneys at Gordon & Partners can help you with all aspects of your legal claim. our attorneys have helped file many insurance claims after truck drivers cause accidents. We will work diligently to secure compensation up to the maximum policy limits.
We provide a free, no-obligation case consultation to gather information about your claim and provide you with legal options. If you decide to move forward with your claim, you will owe no upfront fees and will only owe us for our services if we successfully recover compensation on your behalf.
Call 1 (855) 722-2552 today to see how we might be able to help you.