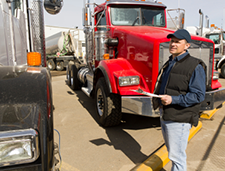 Due to the sheer size discrepancy between a large commercial truck and the average passenger vehicle, Truck accidents can cause very serious and debilitating injuries and property damage for all those involved. A truck collision can be caused by either the actions of the truck driver or by the driver of a car.
If you or a loved one has been injured in a truck accident , you may be able to file a truck accident injury lawsuit to recover compensation for losses related to the collision.
For more information on the legal rights which may be available to truck accident injury victims, complete the Free Case Evaluation form on this page.
Safety Tips for Truck Drivers
As a Florida truck driver, the following safety tips can help you avoid a tragic truck accident:
Get Plenty of Rest
One of the leading causes of Florida truck accidents is truck driver fatigue. It is important for truck drivers to get plenty of rest before getting behind the wheel of their vehicle. Violating federal regulations on hours of service could be detrimental to your livelihood, to your safety and to the safety of other drivers sharing the road.
Properly Maintain Your Vehicle
Inspecting your truck on a regular basis lessens your chances of being involved in a truck accident caused byvehicle defect or malfunction. Taking the time to make sure that your brakes are working correctly, for example, can ensure that your truck is capable of avoiding a collision.
Drive Defensively
Approximately two-thirds of all traffic fatalities are caused by aggressive drivers. By using your truck's size to look ahead for dangerous driving situations or reckless drivers, you can anticipate and possibly avoid potential truck accidents.
Keep Reasonable Driving Distance
Due to the weight of many commercial trucks, more stopping distance is necessary than the average passenger vehicle. By keeping a reasonable amount of space between your truck and the vehicle in front of you, you allow enough distance to safely brake if you find yourself in an emergency situation that forces you to stop abruptly.
Be Aware of "No-Zones"
Blind spots, or areas of limited to no visibility, on a truck are referred to as "No-Zones." As a general rule, the larger the truck is the larger their No-Zone will be. Around one-third of all collisions between a truck and a car occur in the truck's blind spot.
Exercise Caution in Construction Zones
About one-third of work zone fatalities involve a truck. Being alert and slowing down in construction zones can drastically decrease your chances of being involved in a construction zone truck accident.
Report Highway Issues
If you witness any issues that could possibly endanger your safety or the safety of other drivers sharing the road, it is important to report these concerns to authorities. Keep the following numbers nearby when you are behind the wheel of the truck in the event that you witness an unsafe company, driver, roadway or vehicle:
Federal Motor Carrier Safety Administration (FMCSA) Driver Hotline: 1-800-DOT-SAFT
National Highway Traffic Safety Administration (NHTSA) Vehicle Hotline: 1-888-327-4236