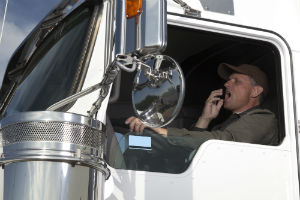 According to a Virginia Tech study, untreated truck driver sleep apnea puts drivers as a much greater risk for being involved in a serious accident.
Drowsiness and daytime fatigue, common factors in truck accidents , are most commonly caused by obstructive sleep apnea.
Data collected by Virginia Tech researchers shines a light on the increased crash risk linked to truckers who fail to comply with prescribed sleep apnea treatments. The study examined 1,600 truck drivers diagnosed with sleep apnea to equal numbers of those without the condition.
Trucking company Schneider National offered a sleep apnea treatment regimen for drivers diagnosed with sleep apnea, including treatments such as auto-adjusting positive airway pressure therapy. Researchers then examined how many preventable reported accidents took place in both groups of truck drivers per 100,000 miles driven.
The study found that in a one-year period, for every 1,000 truck drivers, 70 serious and preventable accidents were likely to take place if sleep apnea treatment was turned down by drivers. Only 14 serious and preventable accidents were likely to take place among drivers who either were not diagnosed with sleep apnea or who were diagnosed and participated in treatment.
Those who did not stick to the treatment plan or who declined to participate in Schneider's treatment program were fired by the company or quit. About 60 percent of those who failed to follow the treatment plan during the study quit the company before they were fired.
Despite being fired for failure to comply with the sleep apnea treatment program, drivers are able to go to work for other companies, as federal regulations do not require drivers do to disclose medical information. The lack of trucking regulations and standards for screening drivers for sleep apnea means drivers suffering from sleep apnea can continue to work untreated, putting all motorists at risk.
Have you been injured in a serious truck accident? If so, the truck accident lawyers at Gordon & Partners are available to assist you in pursuing a claim for compensation, which could help you pay for medical bills, lost earnings and other expenses related to your accident.
Call 1 (855) 722-2552 or contact us online to request a free case evaluation from a personal injury lawyer at our firm.