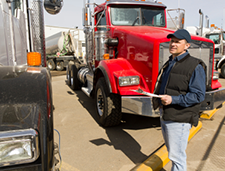 A number of high-profile large truck accident s caused by driver fatigue are leading to serious scrutiny of the trucking industry and the Federal Motor Carrier Safety Administrations regulation of truck driving hours.
Less than one week ago, a truck driver heading northbound on Interstate 35 in Davis, Oklahoma crashed into a school bus carrying 15 members of the North Central Texas College softball team. Four players were killed in the crash and many more were injured. It is believed that the truck driver may have been distracted at the time of the crash, however, investigators are still working to determine exactly what happened and how many hours the driver had been working.
Earlier this year, comedian Tracy Morgan was injured in large truck accident caused by a driver who allegedly went at least 24 hours without sleep. One person was killed in this accident.
In 2010, a fatal truck accident made headlines when Susan Slattery was killed and her two young children critically injured. The driver of the truck admitted that he dozed off just before smashing into Slatterys vehicle, which then careened into five more vehicles and caught on fire. The truck driver was sentenced to prison, but he now denies that he fell asleep.
As shippers look to reduce costs, truckers across the country are working longer hours. Due to decades old laws, trucking companies are not required to pay overtime, and drivers are typically paid by the mile. About two percent of fatal crashes are caused by driver fatigue. In 2006, a federal survey of truckers revealed that 47 percent admitted to having fallen asleep while behind the wheel.
The industry blames on-duty time limits and the pressure to complete driving runs for reasons drivers choose to drive even when their fatigued. Additionally, if a driver pulls over to rest at an undesignated rest stop, they could be ticketed.
Lawmakers have continued to battle how to limit fatigue, but it seems that not enough has been done. Only two states have actually passed drowsy driving laws; three states have had legislation pending since 2013. Until more states pass legislation, drivers and companies will continue to push the limits and put other motorists lives at risk.
If you or someone you love has been injured in a truck accident caused by a fatigued driver, let a West Palm Beach injury attorney at Gordon & Partners fight for your rights. We can help you get the justice you deserve.
For a free review of your claim, call us at 1 (855) 722-2552 or fill out our Free Case Evaluation form.