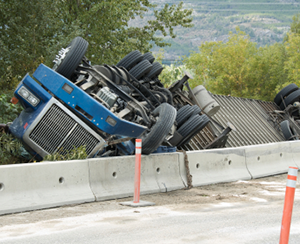 No matter the type of truck accident, the injuries and damages that victims suffer can be overwhelming and far-reaching.
Injured victims may not be able to work for substantial periods of time while they recuperate. In addition to physical and financial strains, devastating truck accidents can also impact loved ones, family, and people who rely on the injured victim.
With a proven track record and commitment to excellence in South Florida, Gordon & Partners understands the complexity of all types of truck accident cases. Backed by years of experience, our lawyers are dedicated to securing successful verdicts and settlements for our clients.
To schedule a free consultation, complete a Free Case Evaluation form or call 1 (855) 722-2552.
Truck Accident Causes
There are various causes of truck accidents on highways and freeways. Inclement weather and the time of day can play a significant role is causing an accident. The truck drivers themselves also play a large role when they show negligence by driving while fatigued, driving while under the influence or speeding.
With more than 16 million drivers on the roads in Florida there are high levels of congestion, especially on the roads throughout West Palm Beach, Broward and Miami-Dade counties. With so many drivers and large trucks coexisting in such compact spaces, the potential for wrecks is only increased.
Truck Accident Types
Being involved in a motor vehicle accident with a large truck can be frightening. Depending on the conditions of the driver, the weather and the vehicle, a number of different types of truck accidents can occur. Here are 10 of the most common types of truck accidents:
Air Brake – a truck's air brakes fail, often when travelling downhill, resulting in the truck being unable to stop.
Truck Rollovers – when a semi-truck's tires fail to grip the road and the vehicle loses control, slides sideways, and rolls over.
Tire Blowout – like a regular tire blowout, a truck tire blowout has the potential for greater damage because the truck is difficult to control.
Jackknife –when a semi-truck brakes quickly and the trailer swings outward, causing the truck's cab to turn toward the trailer. The trailer and cab form an acute angle or jackknife.
Rear-End – when a truck runs into the back of another vehicle. Due to the weight of the truck and carrying load, these accidents can result in serious injury.
Under-Ride – when a truck slams on the brakes, smaller vehicles behind the truck can become lodged under the rear truck trailer, often resulting in severe damage to the smaller vehicle and its passengers.
Blind Spots – blind spots are large in big trucks, making it hard to see other vehicles when changing lanes.
Lost Load – improperly secured loads can result in disastrous truck accidents.
T-Bone – side impact collisions occur when a car or truck is trying to change lanes.
Head-On – when two vehicles collide headfirst. Tight schedules and the lure of bonuses for arriving before schedule can create reckless driving.
Our Promise to You
Experienced and caring, our truck accident lawyers will guide you through the personal injury litigation process and will make your case their mission. Injured victims who are not represented by a knowledgeable truck accident attorney can easily fall prey to insurers who could take advantage of them. It is imperative to utilize the legal services of a competent firm that specializes in truck accidents.
Schedule Your Truck Accident Consultation Today
If you or a loved one has sustained injuries or died due to a truck accident, do not hesitate to contact Gordon & Partners. Take action now and maximize your compensation by contacting our truck accident lawyers for a free, no-obligation, consultation.
our attorneys have decades of experience representing injured victims and have the skills and resources necessary to stand up to large trucking and insurance companies on behalf of the innocent. We work on a contingency fee basis and do not get paid unless you receive fair compensation for your injuries.
Complete a Free Case Evaluation form or call us toll free at 1 (855) 722-2552.