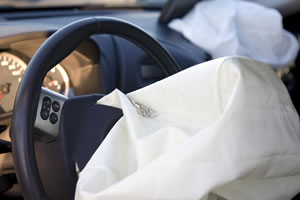 General Motors (GM) has requested that U.S. safety regulators delay by one year the recall of almost one million vehicles equipped with defective Takata airbags.
The auto manufacturer claims that many of the models targeted for recalls have not shown the same risks that prompted the recall of millions of vehicles nationwide.
Takata airbags pose a dangerous threat to drivers and vehicle passengers. Over time, the ammonium nitrate inflator in the airbags has been shown to break down, which can lead to a violent explosion that sends shards of metal throughout a vehicle.
GM recently tested 44,000 of airbags, and none of the deployed airbags ruptured. It concluded that the airbags do not currently pose a risk of rupture, contrary to conclusions set out by the National Highway Traffic Safety Administration.
GM is arguing that these particular vehicles have "unique design features" that make them safer. Nonetheless, it will take an independent expert hired by the manufacturer roughly one year to complete an aging study to test this theory.
Unlike other vehicle manufacturers, GM has argued that its airbags are safe, even when other manufacturers have recalled vehicles with the same or very similar airbags.
If GM can prove that its airbags are safer because of its unique design, it could save the company roughly $870 million in repair costs.
The Extent of the Takata Airbag Recall
The Takata airbag recall is the largest and most complicated auto recall in U.S. history. Approximately 65 million airbag inflators have been recalled, affecting tens of millions of drivers.
Thus far, there have been 14 deaths and more than 100 injuries attributed to the airbag defects. The deaths have involved mostly Honda vehicles, but Ford and Acura also had one death each.
It is unclear whether GM's request will be granted, but federal regulators are taking public comments on the issue.
If you or a loved one has been harmed by a Takata airbag or another defective product, do not hesitate to contact the class action lawyers at Gordon & Partners to discuss your legal options.
Call 1 (855) 722-2552 or complete a Free Case Evaluation form.