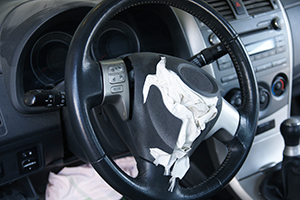 On September 30, the National Highway Traffic Safety Administration (NHTSA) confirmed that the death of a 50-year-old woman was linked to a defective Takata airbag. This brings the total number of U.S. Takata related fatalities to 11.
The woman was driving a 2001 Honda Civic in Riverside County, California, when her vehicle collided with a pickup truck making a left hand turn. The woman was taken to the hospital where she died from severe injuries.
According to police officials, the accident was caused by the woman's left turn. However, the woman's son said she was driving only 25 miles per hour when the accident occurred and that she was a safe driver.
Honda has stated that the victim's Civic was recalled in 2008 and that it sent the vehicle's owner several recall notices. Repairs, however, were never made. This particular vehicle is included in a group of vehicles that are at high risk for experiencing an airbag rupture due to the age of the car and its exposure to high humidity.
Areas like Florida, Southern California, Texas and other states along the Gulf Coast are most at risk for deadly airbag ruptures. In laboratory settings, the rupture rate of vehicles in these areas is 50 percent.
More than 69 million Takata airbags have been recalled in what has now become the largest auto recall in U.S. history. The defective airbags contain an ammonium nitrate propellant that is used to cause a small explosion to inflate airbags during a collision.
The propellant, however, becomes unstable when exposed to heat, which can cause it to explode violently in a crash. Vehicle passengers and drivers can be hit with flying metal debris when the canister housing the lethal propellant violently explodes.
If you were hurt in an accident related to a faulty Takata airbag, you may be entitled to compensation for your injuries, lost income, and pain and suffering. Contact the defective Takata airbag attorneys at Gordon & Partners for a complimentary claim evaluation.
Call 1 (855) 722-2552 or complete a Free Case Evaluation form.