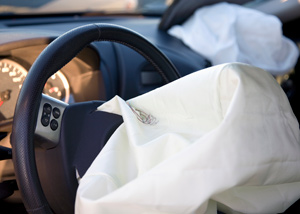 The National Highway Traffic Safety Administration (NHTSA) has issued an urgent warning to owners of more than 300,000 Honda and Acura vehicles advising them to stop driving their vehicles until the defective Takata airbags have been replaced.
A new round of tests found that some vehicles posed a much higher threat for violent explosions than previously thought. With a 50 percent chance of an airbag violently rupturing during a crash, the NHTSA says these parts need to be replaced immediately.
The NHTSA has identified the following vehicles that are at an increased risk for a dangerous rupture:
2001-2002 Honda Accord
2001-2002 Honda Civic
2002 Honda Odyssey
2002 Honda CR-V
2002-2003 Acura TL
2003 Acura CL
2003 Honda Pilot
According to the NHTSA, all of these vehicles were included in recalls issued between 2008 and 2011. Honda has stated that more than 70 percent of vehicles from those recalls have been fixed, but 313,000 remain unfixed and pose a severe danger to vehicle occupants.
Takata airbags are made with an ammonium nitrate trigger that sets off the airbag in the event of a crash. Over time, especially in regions with high humidity, the chemical can break down, causing a violent explosion when the airbag is deployed. The explosion can send pieces of shrapnel throughout a vehicle, causing severe injury and death. As a result, 11 people have been killed and more than 100 have been injured.
The defective airbags have been at the center of the largest automotive recall in U.S. history. The NHTSA estimates that almost 70 million Takata airbags will be under recall in the U.S. by 2019.
Due to the massive number of vehicles that have been recalled, the company is struggling to provide replacement parts at a fast enough speed. Some owners of affected vehicles have been told they must wait months before a part is available to fix their vehicle.
If you have been injured or lost a loved one because of a defective product such as a Takata airbag, contact our experienced team of class action lawyers today for a free, no obligation consultation.
Call 1 (855) 722-2552 or complete a Free Case Evaluation form today.