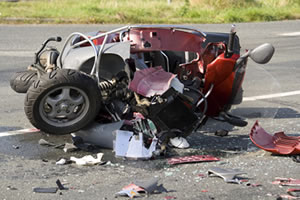 A recent uptick in the number of moped riders in South Florida has led to an increase in the number of moped and scooter accidents being reported.
According to statistics from the Department of Highway Safety and Motor Vehicles, the number of crashes involving scooters or mopeds has increased during each of the past three years. In 2013, there were 135 crashes reported, which is double the number of accidents reported in 2011.
Scooters and mopeds have become increasingly popular as gasoline prices have continued increasing. However, their slower speeds and smaller sizes put riders at risk. Additionally, Florida law requires a person operating a scooter of 50cc or smaller to simply have a valid drivers license rather than an actual motorcycle endorsement. Riders will go on the roads unprepared for the hazards they may face while riding a slower, smaller scooter or moped.
Furthermore, riders are not required to wear safety gear such as helmet, goggles or proper footwear while on a scooter. If a rider is not wearing a helmet and the appropriate clothing, they are much more likely to suffer serious injuries. Of the accidents reported in 2013, 73 percent of them resulted in an injury.
The motorcycle accident attorneys at Gordon & Partners encourage all riders to attend a motorcycle training course and wear the appropriate gear. It is also important for those in cars, trucks and motorcycles to respect those on scooters and be mindful of their presence on the roads.
If you or someone you love has been injured in a moped or scooter accident, you may be eligible to file a personal injury claim . Our personal injury lawyer s offer free legal consultations and can help you determine what your legal options may be.
For a free case review, call us today at 1 (855) 722-2552 or fill out our Free Case Evaluation form.