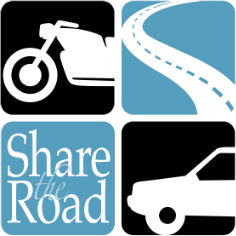 May 1 kicked off national Motorcycle Safety Awareness Month, a 30-day campaign dedicated to raising awareness on sharing the road with motorcyclists to prevent accidents and injuries.
For several years, the number of reported motorcycle accident s decreased. However, the numbers have slowly been increasing once again. According to the Florida Department of Highway Safety and Motor Vehicles, in 2013, there were nearly 10,000 motorcycle accidents reported. The number of fatalities increased between 2012 and 2013.
Motorcycle registrations account for only three percent of all Florida motor vehicles, however, accident fatalities represent nearly 20 percent of all highway accidents.
Florida has great weather and roads for motorcycle enthusiasts. FDOT is committed to making roads safe and usable by all, including motorcyclists. We all need to share the road and look twice for motorcycles. Florida Department of Transportation Secretary Jim Boxold said in a press release.
Some tips for motorcyclists to consider while riding include:
Obtain training regularly, despite having earned your motorcycle license.
Always wear the correct safety gear.
Although it is legal for riders to not wear a motorcycle helmet, wearing one can save your life.
Obey the posted speed limit.
Never drink and drive.
Inspect your motorcycle regularly and stay up-to-date on any motorcycle recalls.
Drivers should always check twice for motorcyclists, allow for more following distance when following a motorcycle and obey all the rules of the road for their own safety and that of other drivers.
As May brings warm temperatures, drivers are much more likely to be sharing the road with motorcyclists during this time of year.
Have you or someone you love been hurt in a motorcycle wreck? The victim may be entitled to compensation for medical expenses, lost wages and their pain and suffering. A personal injury attorney from Gordon & Partners can help you fight for the justice you deserve.
For a free review of your claim, contact Gordon & Partners at 1 (855) 722-2552 or fill out an online contact form.