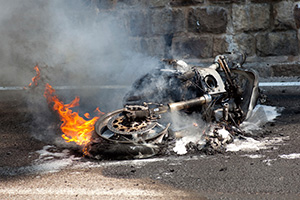 Jason Swanson, 30, was killed in a fiery hit-and-run motorcycle accident on Sunday evening near Washington Street and S. 56th Avenue.
Witnesses say they heard a motorcycle for a few seconds and then an explosion. Hollywood police officers found Swansons body engulfed in flames in the middle of S. 56th Avenue. Officers tried to put out the flames and save the victim, but he was pronounced dead at the scene.
Cars continued to drive past the scene until police arrived and began extinguishing the fire.
Witnesses told investigators that they saw a female driver get out of her dark-colored Ford Explorer Trac and look at Swanson before driving away. A passenger, who appeared to be between the ages of 8 and 12, is believed to have also been in the truck.
Detectives found pieces of the Ford Explorer Trac at the site and believe that the vehicle may have damage to the running boards on the front drivers side and passenger side.
Swansons family says he was the type of person who helped others. They gathered at the crash site on Monday to leave flowers and handwritten notes made out to their loved one.
Authorities are urging anyone with information about the crash or hit-and-run driver to call the Hollywood Police Department or email hollywoodtips@hollywoodfl.org. A $3,000 reward is being offered for information leading to an arrest.
The number of hit-and-run crashes in Florida increased by seven percent between 2013 and 2014. In February 2015, the Florida Highway Patrol launched a campaign to educate drivers on hit-and-run crashes and what they can do to help solve these types of accidents.
If you or someone you love has been injured in a hit-and-run collision, Gordon & Partners is one of the Florida personal injury law firms that you can count on. Our personal injury attorneys are ready to help you get the justice you deserve. Call us for a free case review to determine what your legal options are.
Call 1 (855) 722-2552 or fill out an online contact form.