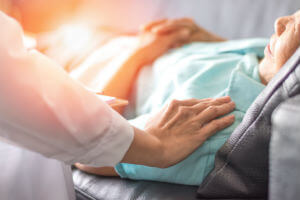 Nursing homes have a responsibility to ensure that residents are properly cared for in a safe and healthy environment. However, when a facility and its administrators fail to hire qualified staff, provide inadequate training, or poorly supervise employees, these shortcuts can result in harm to a resident.
Our legal team at Gordon & Partners further explain how negligent hiring and supervision can lead to abuse or neglect in a nursing home. Learn how we may be able to help in a free consultation.
What is Negligent Hiring?
Negligent hiring is a type of legal claim made by an injured victim who is harmed by an employee that the facility hired. If the nursing home had taken the proper steps to do a background check to rule out if the employee had any criminal convictions for assault, it would not have hired a potentially dangerous employee with the means to cause harm to residents.
Performing a proper background check could include:
Checking employment and personal references
Validating college degrees, certifications and licenses
Performing a drug screening
Performing a criminal screening
Performing credit checks
Checking driving records
Examples of Negligent Hiring
Several ways negligent hiring could lead to resident abuse include the following:
A nurse with a fraudulent degree from a non-accredited college who performs CPR on a resident that results in death
A caregiver with an expired certification or license who gives the wrong amount of medication to a resident that causes severe side effects
A new staff member with a history of anger issues who attacks a resident and causes injury
What is Negligent Supervision?
Although negligent supervision is a similar type of claim to negligent hiring, it involves the facility knowing or reasonably knowing that an injury would happen without having the proper safety measures in place. Supervision also falls on the responsibility of nursing home staff. A caregiver who knew or should have known that harm would happen to a resident in his or her care but failed to prevent it could be held liable.
Examples of Negligence Supervision
Several ways negligent supervision could lead to resident abuse include the following:
The administrator of the facility is aware that a certain nurse and resident do not get along well, but still assigns that nurse to the resident. An argument turns physical and the resident is hurt.
A nurse knows that one resident has been showing forceful sexual interest in another resident who dismisses these advances but fails to do anything until the resident is sexually abused.
An administrator knows several items have been missing from residents' rooms under the supervision of the same caregiver, but fails to investigate, discharge or reassign the employee. The caregiver ends up stealing a resident's identity, racking up thousands of dollars.
Give Us a Call If You Suspect Abuse
Negligent hiring and supervision in a nursing home can have a tremendous impact on residents who readily depend on nurses, caregivers and other staff members for care. If you suspect that your loved one is the victim of nursing home abuse, we recommend contacting our firm as soon as possible.
A West Palm Beach nursing home abuse attorney is standing by to take your call. Our consultations are 100 percent free and completely confidential. There are no upfront fees. We only receive payment if you obtain compensation.
Give us a call at 1 (855) 722-2552 or complete our free online form.