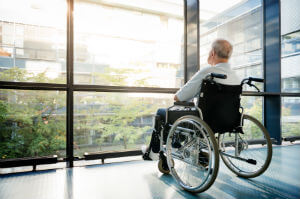 Due to increased fall risks and other dangers, wandering is especially dangerous for nursing home residents. If a nursing home fails to take proper measures to secure entrances and exits, the facility could be held liable for a resident's injuries that result from wandering.
If your loved one sustained injuries due to wandering while residing in a nursing home, you may be eligible to pursue compensation for medical expenses and other damages. Schedule a free consultation with our legal team today to learn more about your rights and possible legal options available.
Why Do Residents Wander?
Wandering is common among nursing home residents who suffer from dementia, Alzheimer's disease and other cognitive or memory impairing conditions. Wandering often occurs due to:
Being unfamiliar with the environment and wanting to seek out a familiar spot, sometimes due to anxiety or fear
Changes to a resident's medication or routine
Needs, such as thirst, hunger or the need to use restroom facilities
The resident does not know his or her way around the nursing home
Agitation and/or disorientation
Vision issues
Communication or language problems
Environmental cues, such as open doors, that tempt residents
Imagined fantasies where the resident does not realize he or she is in a nursing home
The resident's desire for exercise and recreation
How to Prevent Wandering in Nursing Homes
Nursing homes are responsible for maintaining a safe environment for all residents. To prevent wandering, the facility should assess resident risk and implement safety measures to keep residents secure.
Facility staff should assess residents for wandering risk early on. Typically, a resident begins to wander in his or her first few days at a facility – identifying risk early on allows a nursing home to increase monitoring and plan ahead to address risks in order to protect the resident. This includes:
Identifying specific residents at risk for wandering
Creating care plans for residents prone to wandering
Creating locations within the facility that offer safe space for wandering
Increasing staff numbers so all patients are properly monitored
Nursing homes should implement security measures to alert staff of wandering residents and keep residents within safe areas, such as:
Disguised exits
Bed alarms for residents who may wander during the night
Door alarms that alert when opened
Passcode-restricted doors that limit access into and out of the facility
Locks on cabinets or rooms where hazards exist
Holding a Nursing Home Liable for Wandering Resident Injuries
While nursing home residents should be permitted freedom while living at a facility, the staff must take action and implement measures that keep residents safe while allowing a needed degree of freedom.
Wandering can be very dangerous for nursing home residents, creating the risk of serious injury or even death. When out of the facility, a resident can suffer injuries in many different ways:
Falls
Hit by a vehicle
Dehydration
Hypothermia
Hyperthermia
Trapped in an unsafe location
Wandering injuries can be a sign of negligence on behalf of the nursing home facility. Understaffing and a lack of proper training are issues in some facilities that increase the risk of injuries caused by wandering. A nursing home may be found liable for a resident's wandering injuries if it failed to:
Evaluate a resident for wandering risk upon intake
Periodically reevaluate residents for wandering risk
Properly monitor residents for wandering
Use precautionary measures to prevent wandering
Consult With Us at No Cost to You
If your loved one was injured due to negligence on behalf of a nursing home, your family may be eligible to pursue compensation for your loved one's medical bills, pain and suffering and other damages caused by the incident.
Our West Palm Beach nursing home abuse attorneys provide free consultations to discuss your claim and help you determine your legal options. There is no obligation to hire our firm, though if you choose to pursue legal action with us, there are no upfront fees. You only pay us if we recover compensation for you.
Call Gordon & Partners at 1 (855) 722-2552 or complete our free online form.