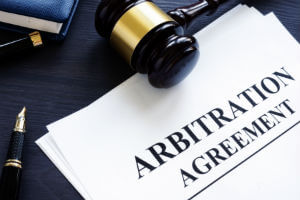 Many families turn to a nursing home or assisted living facility when their elders can no longer take care of themselves. These facilities may include an arbitration agreement in their contracts to be signed by a new resident and/or his or her loved one. While this agreement may seem innocent enough, you could be forfeiting your rights, including the ability to sue the facility for abuse or neglect.
This is why it is important to know what you are getting yourself into when reviewing nursing home contracts. Our legal team at Gordon & Partners further explain arbitration agreements below. If you suspect your loved one has been abused or neglected, reach out anytime for a free consultation.
What is a Nursing Home Arbitration Agreement?
Many nursing homes have arbitration agreements in their contracts for admission. These agreements may use language that is confusing or difficult to understand and may be hidden in-between other paperwork that must be signed to become a resident of the facility.
Generally, an arbitration agreement will state that if a dispute arises between a resident and the nursing home, a neutral third party, called an arbitrator, will hear the evidence and make a binding decision.
These disputes are settled out of court and since an arbitration decision is legally binding, it cannot be appealed. It is rare for a facility to include an arbitration agreement that is non-binding, where each party is able to reject the arbitrator's decision and take the dispute to court.
How an Arbitration Agreement Impacts a Resident's Rights
There are also several advantages and disadvantages to signing an arbitration agreement, which are essential to learn as a resident or having a loved one in a facility.
Advantages include a faster, simpler and more effective way to resolve a nursing home dispute. It could reduce the number of lawsuits against a facility, which could potentially reduce the cost of resident care.
If the dispute is specific, such as physical or emotional abuse, having an arbitrator who has experience in that field to resolve the dispute would be more beneficial versus a judge who may be unfamiliar with the dispute involved. Even minor disputes could be handled in a swift manner.
Although the arbitration process is faster, it could cost you or your loved one more due to legal fees and related-expenses. Other disadvantages of signing a nursing home arbitration agreement include:
There is no public record of the dispute because a hearing with an arbitrator is held in private
The facility is not under any obligation to report the dispute, even if dealt with abuse or neglect
These agreements take away the ability for injured residents and their families to hold the facility accountable in court
With little to no oversight, nursing homes then have no incentive to prevent incidents of abuse or neglect from happening because the outcome of an arbitration is kept confidential
Let Us Fight for Your Best Interests
Even though an arbitration agreement is legal and binding, it is illegal for a nursing home to make it mandatory or say that it is required in order to gain admittance. Make sure before signing any contract to identify if the facility has an arbitration agreement and if so, ask them to please remove it.
The West Palm Beach nursing home abuse attorneys at our firm are standing by to take your call. An initial consultation with us is completely free and you are under no obligation to retain our services. We only get paid at the end of the legal process if we are able to obtain fair and just compensation of behalf of you or an elderly loved one.
Get the help you need by calling 1 (855) 722-2552.