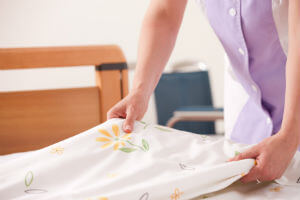 Many families make the difficult decision to have their loved one placed in a nursing home when he or she can no longer live independently. Families trust these facilities to properly care for their loved one.
However, when the nursing home fails to assist residents with routine tasks like changing their clothing, assisting them with bathing or keeping the facility clean, residents can be at risk for developing life-threatening infections and illnesses. Poor hygiene could a form of nursing home abuse.
The West Palm Beach nursing home abuse attorneys at our firm actively protect the rights of nursing home residents and will fight for justice for abused or neglected residents. We are prepared to review your loved one's situation during a free and confidential consultation.
Sanitation Standards Being Violated
Proper sanitation in nursing homes is important because there are so many elderly individuals in these homes who tend to have weaker immune systems. The presence of unnecessary germs, bacteria and viruses further threatens the health of residents and may cause them to suffer diseases that could have easily been prevented.
Nursing homes are required by federal law to maintain clean and sanitary facilities. Proper sanitation standards include:
Keeping food areas sanitized
Keeping flooring areas free of debris or fall hazards

Regularly assisting residents with toilet use, bathing and grooming

Rotating residents regularly to avoid bed sores and encourage mobility
Providing training to staff on how to contain and dispose of medical and biological waste
Providing training to staff on the proper sanitation of the facility
Lack of Cleanliness in Facilities
Even though nursing homes are required to maintain their facilities in a sanitary condition, many fail to maintain proper standards. Seeing a lack of cleanliness in a nursing home may be a sign that your loved one may be suffering from poor hygiene or lack of care.
Examples of lack of cleanliness to look out for include:
Unclean bathrooms and shower areas that have mold or mildew
Unclean food preparation and serving areas
Unclean toilets and bathtubs where germs can breed
Trip hazards in common areas
Dirty common areas
Unclean counters, chairs and tabletops
Nursing Homes Not Adequately Staffed
Nursing homes that are understaffed may be more likely to contribute to unsanitary areas because there are not as many people available to regularly clean and sanitize the area. Additionally, there are fewer people available to help patients with toileting or bathing. Germs can easily spread throughout the nursing home, placing residents at risk.
Nursing homes that have the proper amount of trained staff are less likely to have poor hygiene problems. They are more likely to have staff available to keep the property in proper order.
Liability for Poor Hygiene in Nursing Homes
Nursing homes could be held liable for improper care of their residents, including for illnesses and accidents that arise due to lack of hygiene or unsanitary facilities.
These facilities could also be responsible when their actions or lack of actions negatively impacts the health of patients. Nursing homes are responsible for keeping clean and sanitary facilities that do not jeopardize the health of residents. General negligence, including a lack of proper hygiene standards, is common amongst lawsuits against nursing homes.
Seek Help If You Suspect Abuse
If you suspect nursing home abuse, our dedicated legal team at Gordon & Partners is here to help. We are prepared to review what has happened and advise you of the legal options available to pursue compensation for the damages your loved one has suffered.
Request a free consultation to get started. There is no risk in calling us and no obligation to take legal action. We charge no upfront fees and only get paid if you recover compensation.
Contact us anytime day or night at 1 (855) 722-2552.