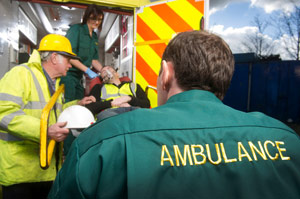 A 24-year-old man was taken to the hospital with a head injury after he rear-ended a car while driving his scooter in Dania Beach on Wednesday.
The man, whose identity had not been revealed, was traveling northbound in the 1100 block of South Federal Highway around mid-day. A car pulled out in front of him and the man stuck the back of the vehicle.
According to Broward Sheriff Fire Rescue, the scooter driver was not wearing a helmet. He was alert and conscious but was taken to Memorial Regional Hospital for non-life-threatening injuries. Fire rescue noted that a helmet could have saved the victim a trip to the hospital.
In Florida, scooter drivers only need a regular Class E drivers license to ride and anyone over the age of 16 is not required to wear a helmet. The motorcycle accident attorneys at Gordon & Partners advise all motorcycle and scooter drivers to always wear a helmet. Several studies have noted that helmets reduce the rate of fatal motorcycle accidents by 29 percent and reduce the risk of head injury by 69 percent.
If you or someone you love has been injured in a motorcycle accident caused by a careless driver, the victim may be entitled to file a claim for damages they have suffered. A West Palm Beach injury attorney from our firm can offer a free legal consultation and help you determine what your legal rights are.
Call us today at 1 (855) 722-2552 or fill out our Free Case Evaluation form to contact us now.