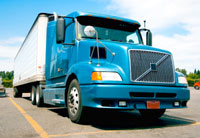 Although self-driving cars have not been made available to the public just yet, developers are already moving forward by unleashing the worlds first self-driving semi-trucks.
The Freightliner Inspiration is a more technical version of the Daimler semi-truck used around the world. According to Wolfgang Bernhard, the trucks creator, long-haul road transportation will now be safer, cheaper and better for the environment.
Despite being marketed as self-driving, the truck is more so simply one with better cruise control. The trucks electronic self-driving system will only take control on the highway, will maintain a safe distance from other vehicles and will stay in its lane.
If the truck comes across difficult weather conditions, it will alert the driver by beeps and icons on the dashboard that it is time for the driver to take over. Additionally, if the driver does not take over within a few seconds, the truck will slow down and eventually come to a full stop.
The truck has a stereoscopic camera that reads lane lines as well as radar that can scan the road up to 800 feet ahead. There is no vehicle-to-vehicle communication or backward facing sensors.
The manufacturer of the truck, according to Wired, is hoping that an autonomous truck will save lives. About 90 percent of the 330,000 Truck accidents reported in 2012 were a result of driver error. Another viewpoint in favor of these trucks is that less and less drivers are obtaining the qualifications needed to drive a semi-trailer.
Motorists should not worry just yet though, it is likely that this self-driving trucks will not be on major roadways for another decade. The automaker still needs millions more test miles on the books in a variety of locations and weather conditions truck drivers typically drive through.
Have you or someone you love been injured in a truck accident caused by a careless driver? A personal injury lawyer from our law firm can help to determine if you may be entitled to compensation for your pain and suffering.
For a free claim review, call 1 (855) 722-2552 or fill out an online contact form.