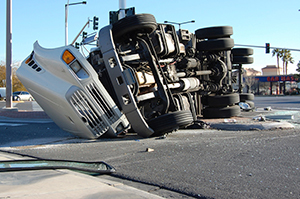 One person was killed and another was injured after a semi-truck crashed into power lines in Canal Point in western Palm Beach County early Tuesday morning.
According to the sheriffs office, the crash occurred just before 4 a.m. at Lakeshore Drive and Main Street in Canal Point.
The Florida Highway Patrol (FHP) reported that the truck was traveling southbound on U.S. Route 441 when the driver lost control on a curve and the truck slammed into a power pole.
Two people were in the truck when the accident occurred, according to FHP, but it is unknown if the passenger or the driver of the truck was killed. One person was taken by Trauma Hawk helicopter to St. Marys Medical Center.
U.S. Route 441 at Lakeshore Drive and Connors Highway were closed for several hours after the accident, but reopened by 8 a.m.
Florida Power & Light reported that the crash also caused 270 homes in the area to lose power. By 7:30 a.m. the majority of those homes had had their power restored.
Truck Accident Dangers
Data from the U.S. Bureau of Labor Statistics shows that truck drivers have one of the most dangerous jobs in the country. They travel long distances for long, uninterrupted periods of time. This amount of traveling at all hours of the day and night put truck drivers at a greater risk for falling asleep while behind the wheel, as well as a number of other dangerous hazards that can lead to an accident.
According to the Insurance Institute for Highway Safety, more than 3,500 people died in large truck accident s in 2013. Sixteen percent of those deaths were truck occupants.
When a large truck is involved in an accident, everyone and everything nearby is in danger: truck occupants, other vehicles and their occupants, and even nearby property could be seriously affected by a truck accident.
If you or someone you love is injured or dies in a truck accident, the experienced team of personal injury attorneys at Gordon & Partners can help you get the justice and compensation you deserve.
For a free consultation, call 1 (855) 722-2552or complete a Free Case Evaluation form.