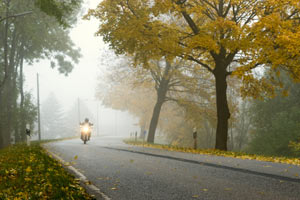 Florida sees nearly 54 inches of rain each year, and even more here in West Palm Beach – more than 62 inches, according to data from the Florida Climate Center. Rain doesn't necessarily dictate that a motorcycle driver skip a ride, after all, the sun tends to come out in South Florida; however, riding in wet conditions is more dangerous riding than on dry roads, and bikers should be cautious when the roads become slick.
All of South Florida's counties topped the list for the most motorcycle fatalities in 2010, according to Florida Department of Transportation (FDOT). If you or a loved one has been injured or lost their life in a Florida motorcycle accident, you may be entitled to compensation. Gordon & Partners has the experience and knowledge to pursue justice for you.
Fill out the Free Case Review form to your right to learn how we can help.
Tips for Driving a Motorcycle in the Rain
It is imperative for a biker to make adjustments for changing weather conditions, and South Florida rain is no exception. Follow these tips to stay safe while riding in wet conditions:
Motorcyclists can benefit from dressing appropriately for rain. Insulated boots, a rain jacket, helmet and perhaps a waterproof electric vest are all helpful for staying dry (and warm in the colder months).
If your ride isn't a leisurely one, make sure you leave with enough time to safely reach your destination. Driving maneuvers take more time in the rain for every vehicle.
Having enough distance to brake safely is essential. Bikers should double their usual following distance and remember that a motorcycle has less traction in the rain.
Speeding is clearly unwise in the rain. Especially when approaching turns or curves in a road, a motorcyclist needs to reduce their speed in wet weather. During periods of reduced visibility, it is also wise to gently tap your brakes so other motorists are aware that you are decelerating.
Intersections can be particularly dangerous for motorcyclists riding in wet conditions, because of the accumulation of oil and other debris. It is wise to decrease speed while approaching an intersection, and stop at yellow lights. Sudden maneuvers can cause a loss of traction. Be aware of vehicles approaching you while stopped at a red light.
The first rule of driving is always to stay alert and be aware of your surroundings. This is especially true for motorcyclists, who are more vulnerable to road hazards and the actions of other drivers.
Especially in Florida where rainfall can be spotty, it isn't unusual to see a dry lane among wet ones after a rain shower. While it seems common sense, some riders will remain in a wet lane when a dry one is available.
No matter what your skill level, wet conditions are a frequent cause of motorcycle accidents. If you are a beginning rider or do not feel confident while on the road during inclement weather, pull over to a safe, dry area and wait for the rain to pass.
It can be nerve-wracking to ride in wet conditions, however these guidelines will help to improve your safety margin while on the road and increase your odds of avoiding an accident.
Contact Our Florida motorcycle accident attorneys
Even when paying close attention and practicing safe driving skills, you cannot rely on the actions of other motorists (especially in the rain). If you or a loved one has been injured or killed in a motorcycle accident during bad weather, you may be eligible to pursue legal action. The legal team at Gordon & Partners is experienced in motorcycle collisions and has gotten obtain results in its courtroom.
Our offices are located throughout South Florida, and we are proud to serve clients in the following areas:
West Palm Beach
Boca Raton
Hollywood
Pembroke Pines
Davie
Doral
…and many more
Learn more about your legal rights by calling us today at 1 (855) 722-2552. One of the professionals on our intake team will take the details of your case and quickly connect you with a motorcycle accident attorney that is well suited to your case.
Get started now – fill out the Free Case Review form at the top of this page and we will contact you.