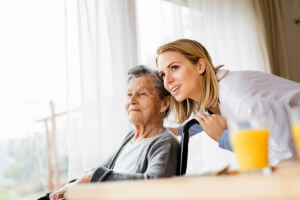 Selecting a nursing home for your loved one is a stressful process. You want to ensure your loved one receives the highest quality of care and that he or she is safe from abuse or neglect.
Below are several things to consider when visiting a nursing home to help evaluate the facility. If your loved one suffers abuse or neglect at a nursing home, contact our firm today for a free, no obligation consultation. We may be able to help you hold the perpetrators liable for your loved one's damages.
Do Your Research and Ask Questions
Before making a decision on nursing home placement for a loved one, it is important to do your research on each facility you are considering. Nursing homes are regulated by public agencies and a lot of information is available online.
Records of health and safety violations should be checked to see if the facility is currently facing issues or has in the past. Consider reading online reviews to get an idea of what other families are saying about the facility, but, remember that sometimes these reviews can be a sounding board for dissatisfied customers only.
When interviewing nursing home facilities for your loved one, ask detailed questions to uncover critical information that will help you make a wise decision. Questions you should ask include:
Does the facility meet state and federal regulations, now and in the past?
Is there a history of state or federal violations?
Does the nursing home administrator hold a license?
Is the facility conducting background checks on all staff members before they are hired??
What training is in place to help prevent Nursing Home Abuse and neglect?
Are special service units available to meet my loved one's medical and safety needs?
Pay Attention to Staff Interactions
When you tour a nursing home, pay close attention to interactions with staff members. What you observe on this visit can give you clues to the experience your loved one will have should you choose this facility.
Do the residents seem to get along with staff members? Do staff members know each resident's name, and are they responsive to the resident's needs? If the answer to these questions is "yes," it shows that the staff respects and cares for residents properly.
The way staff members interact with each other is also telling of the quality of care your loved one may receive. Staff members who are rude to one another may treat residents rudely, too. Are staff members keeping to themselves when they chat, or are they interacting with residents and engaging them rather than shutting them out?
Look for Signs of Bad Care
As you observe a facility, take time to look for signs that indicate residents are not well cared for. These signs include:
Residents are not properly dressed
The facility is not clean
The facility has unpleasant odors
Residents have an unkempt appearance, such as messy hair or are unshaven
Your questions are left unanswered or staff members will not answer specific questions
The staff appears to be unorganized, staffers have bad attitudes, and act frantically, which is a sign of inadequate staffing
The facility has a high turnover rate among caregivers
The phones ring constantly and resident call lights are left unanswered
Residents are not allowed to have personal items such as photos
Ask the facility about policies to safeguard residents against bad care. Are employees screened for a history of abuse before they are hired? Does the staff receive special training for dealing with difficult residents and managing the stress of caring for multiple residents?
Facilities should have clear policies and procedures in place to protect against abuse and neglect. Employees should be educated on prevention and recognizing the signs of abuse and neglect to best protect each resident.
Contact Gordon & Partners If You Suspect Abuse or Neglect
If you suspect abusive or neglectful treatment in a nursing home, contact our West Palm Beach Nursing Home Abuse lawyers right away. We will review your case and fight for justice for your family.
Request a free, no obligation consultation today and learn what legal options are available to you. There are no upfront fees to pay and payment is only due if we recover compensation for you.
Call 1 (855) 722-2552 today to see how we might be able to help you.