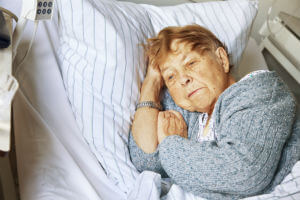 Elderly individuals are often sent to live in nursing homes so that they can receive the proper care and treatment they need. However, sometimes nursing home residents are abused by the very people who are supposed to care for them.
There are various forms of elder abuse. Understanding each of them and recognizing the signs and symptoms of these forms of abuse can help you protect your loved one.
If you believe that your loved one is being abused in a nursing home, the experienced West Palm Beach Nursing Home Abuse lawyers from Gordon & Partners can help. We can investigate your case and determine which type of abuse is present, if any. We can also help seek compensation against the nursing home or staff on your behalf. Learn about the various forms of nursing home abuse below and contact us for help with your claim.
Physical Abuse
Physical abuse of nursing home residents includes intentionally causing physical harm to them. It can include such forms of abuse as:
Slapping
Hitting
Punching
Kicking
Pushing
Biting
Choking
Pinching
Shoving
Force-feeding
Other forms of abuse are nursing staff improperly restraining a resident or overmedicating a resident to unnecessarily sedate them.
There may be physical signs that your loved one is being abused. You may see signs such as:
Bruises, fractures, welts or cuts
Unexplained injuries that do not match up with the explanation given by staff
Marks from ropes or other constraints
Medication that runs out before it should
Your loved one may also display non-physical symptoms, such as having a sudden change in their personality or behavior. They may refuse to have a nursing staff around them or may begin to isolate themselves from loved ones.
Emotional or Psychological Abuse
Emotional or psychological abuse is the infliction of emotional pain, anguish or distress by threats, harassment, verbal actions or other forms of intimidating behavior. Staff who adversely affect nursing home residents through fear, humiliation, degradation or emotional distress may be emotionally abusing the residents.
Common signs of emotional abuse include:
Isolating the resident from friends or activities they enjoy
Unresponsive or withdrawn behaviors from the resident
Being agitated or emotionally upset
Regressive behaviors
Hearing the staff call the resident names or make threats towards the resident
Reports from the nursing home about verbal or emotional maltreatment
Emotional abuse can also be more passive, such as intentionally ignoring a resident's requests. Emotional abuse can cause significant mental pain and must be taken seriously.
Financial Abuse
Financial abuse of a nursing home resident involves illegally or improperly using the money or other assets of a resident. This may involve forging the resident's signature, taking cash without his or her permission, convincing the resident to change an important estate planning document or outright stealing. It can also include billing a resident for services he or she did not receive.
Common signs of financial abuse include:
A new name added to an account or card
Changes to legal documents like wills or power of attorney
Large cash withdrawals
Unmet financial needs
Unexpected charges
Forgery of documents
Transfer of assets
The loss of tangible assets
The receipt of unnecessary services
Sexual Abuse
Sexual abuse involves nonconsensual sexual contact between the nursing home staff and a resident or between residents. Many nursing home residents lack the capacity to enter into a consensual sexual relationship.
Common signs associated with this type of abuse include:
Bruising in private areas
Unexplained infections
Bleeding
Stained or torn clothes or bedding
Neglect
Neglect does not involve intentional harm like abuse does. Neglect is the refusal or failure to provide adequate care to nursing home patients. It can include not providing nutrition, hydration, medication or therapy to residents or failing to provide for his or her basic hygiene needs.
Contact Gordon & Partners for Legal Assistance
Every nursing home has a duty to provide proper care to residents.They are also required to ensure that they are properly staffed and that their workers have the proper training to respond to the needs of their residents. A nursing home abuse attorney in West Palm Beach can help you determine if your loved one is being abused and can work to hold the nursing home accountable.
If you suspect that your loved one may be being harmed, contact us to schedule a free, no-obligation legal consultation.
Call us now at 1 (855) 722-2552 or fill out our Free Case Evaluation form.