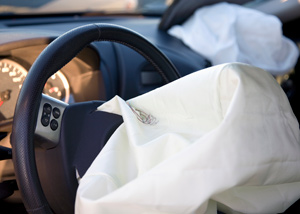 A young driver has become the eighth U.S. fatality linked to faulty Takata airbags. This is the first death linked to Takata since April, bringing the total to nine worldwide.
The attorney for the family of the victim, a thirteen-year-old-boy, contacted the National Highway Traffic Safety Administration (NHTSA) in early December about the death.
According to a Pennsylvania State Police report, the boy was driving alone in a used 2001 Honda Accord Coupe when it ran off the road and into an embankment before striking a fallen tree on July 22, 2015. The victim died in a hospital several days later.
No further details were available about the death, but the NHTSA has tentatively concluded that it was likely a rupture-related fatality.
The vehicle was under a recall and was owned by a relative of the boy. According to Honda, the previous owner of the vehicle received the first recall notice in 2010. Another recall notice was mailed on July 21, 2015, the day before the deadly accident occurred.
Additional Recalls Announced
Approximately 23 million air bag inflators in the U.S. that use ammonium nitrate as a propellant have been recalled on about 19 million vehicles sold by 12 automakers. The ammonium nitrate inflators have been shown to violently burst apart, injuring and killing countless individuals.
Recent crash test results have pushed the NHTSA to expand the recall to those models that had a passenger side airbag rupture during testing. Those vehicles include:
2005 to 2008 Mazda 6
2002 to 2004 Honda CR-V
2005 to 2008 Subaru Legacy and Subaru Outback
Monitor Appointed to Oversee Recalls
The NHTSA also announced that former Justice Department official John Buretta will act as an independent monitor overseeing the massive Takata airbag recalls.
In November 2015, Takata arrived at a settlement with the NHTSA, agreeing to pay $70 million in safety violation fines. An additional $130 million in deferred penalties could also be imposed.
If you have suffered an injury or lost a loved one due to a faulty Takata airbag and have questions about Florida personal injury law regarding these defective airbags, our personal injury attorneys are dedicated to holding negligent manufacturers responsible for their negligence and are ready to help answer your questions.
Call us at 1 (855) 722-2552 or submit our online form to request a Free Case Evaluation form.