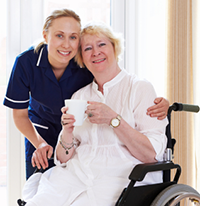 By 2030, there will be over 72 million adults over the age of 65 in the United States, according to the Administration on Aging. While the growing senior population in the nation has increased the need for senior caregivers it has also given many unscrupulous companies an opportunity to generate a profit from senior care facilities while not providing their residents with a standard of care that is NOT in accordance with state and federal guideline.
Unfortunately, many seniors and their families are simply unaware of how to find a good caregiver or even where to start.
At the law offices of Gordon & Partners , we have a strong belief that everyone should have access to accurate, detailed information about this rapidly expanding segment of our society and with this in mind, we have detailed below some information that we feel is a genuine benefit for those that are researching senior care facilities. If a loved one has been abused or neglected by a caregiver contact one of our respected Nursing Home Abuse attorneys today for a free consultation.
Finding a Good Caregiver
Depending on the needs of the elder adult, it will determine the type of help you hire.
Home Health Aide (HHA) – HHAs only assist with everyday activities such as bathing, cooking and clothing the elder adult. Florida does not require HHAs to have a license or certification. If HHAs work for a home health agency that receives Medicare or Medicaid, they must complete 75 hours of training and pass a competency evaluation.
Certified Nursing Assistant (CNA)- CNAs can provide more advanced care than an HHA, such as taking vital signs, caring for wounds and administering catheters. CNAs have some medical training and have to be certified by the state of Florida.
Agency vs. Independent Caregiver
Independent Caregiver– They tend to be less expensive than hiring a caregiver from an agency. If the aide becomes an employee for the senior adult or their family, they may be held responsible for taxes and liability insurance. An attorney can advise you on any legal and financial obligations that you may owe the employee and the government. Hiring an aide that you know may be a good idea if you have strong relationship with that person.
Agency– Hiring a caregiver from an agency tends to be more expensive, but the agency pays for FICA taxes and covers liability insurance. A positive to hiring an aide from an agency is that you might be able to try a few aides to find the perfect one for the senior adult. If your caregiver is sick or goes on vacation, the agency can provide a substitute. When you factor in taxes and insurance, the price may comparable to hiring an independent caregiver.
Important Tips to Remember
Get References
Ask for personal and professional references from caregivers before you hire them. Review their employment history. Lapses in employment and quick turnover rates should raise a red flag. Sometimes these lapses can be explained by illnesses or other events that forced the aide to take time off work. If caregivers are unable to explain lapses, they may be trying to hide information about certain jobs.
Background Checks
Have a background check done on the potential caregiver. Contact your local law enforcement agency and ask about the requirements for a background check.
Trust Your Instincts
If the references and background checks are good, but the aide makes you feel uncomfortable, keep looking. Our instincts let us know if something is not right.
First Impressions
Observe the candidates when interviewing them. Watch to see how they respond to you and your loved one. How is their hygiene? If the candidate doesn't take care of themselves, they probably won't take good care of your loved one. Also cross anyone off the list, that can't look you in the eyes or is reluctant to speak about their work history.
Qualities of a Good Caregiver
Dependable- You want your loved one's caregiver to be dependable and punctual. This is especially true if the elder adult has around-the-clock care. The other aides that work with the senior adult depend on the aide to be on time and to relieve them of their duties.
Physically fit- Caregivers may have to lift patients and move medical equipment from place to place. They should also be strong enough to push patients around in wheelchairs if needed. It is not uncommon for caregivers to stand for long periods of time.
Emotionally stable- Being a caregiver is a demanding job. You don't want an aide that breaks down emotionally in front of patients.
Compassion- A good caregiver should be able to sympathize with their patients and determine what will make them comfortable.
Honesty- Caregivers need to be able to report information accurately and truthfully in emergency situations. Falsifying information can put a patient in danger.
Good attention to detail- An aide needs to be detail oriented, especially if they are administering medication to a patient. Aides must also be vigilant about their patient's nutrition. A lack of detail can put an elderly patient's life at risk.
Respect a patient's independence- Some caregivers will take over mundane tasks that a patient can do for themselves. It is important that an aide allows patients to do certain things themselves as the ability to do mundane tasks usually helps a patient's self-esteem.
Good communication skills- Caregivers must be able to listen, obtain, interpret and share information effectively with their patients and families.
Patience- A caregiver must be able to adjust to any changes an elderly person may have. They need to be able to adapt to any mood swing or personality issues a senior may have.
Finding a good caregiver for your loved one can be a daunting task. It's important to find one that you and your loved one trusts and feels comfortable with. Medicare has a Home Health Compare Tool that can help you evaluate home health agencies.