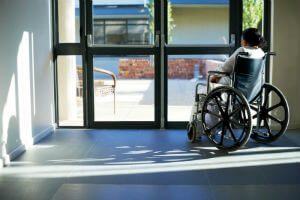 More than 25 percent of serious Nursing Home Abuse incidents go unreported to law enforcement, according to a recently released alert from the Department of Health and Human Services' Office of Inspector General (IOG).
The government's health care watchdog noted that the urgent alert was released ahead of the scheduled release of a full investigative report on nursing home abuse due to the shocking discovery and dire need for immediate change.
If you suspect that your loved one has been abused or neglected in a nursing home, you may have legal options. Contact the West Palm Beach Nursing Home Abuse attorneys at Gordon & Partners for help pursuing justice against negligent caregivers and nursing home facilities. Schedule a free consultation today.
Nursing Home Abuse Going Unreported
As part of an ongoing investigation into nursing home abuse and neglect, OIG auditors identified 134 cases of abuse in nursing homes between 2015 and 2016 that were serious enough to require emergency treatment. Most of the cases involved incidents of sexual abuse.
The incidents were discovered in 33 states, with Illinois having the highest number of incidents at 17 cases. Thirteen incidents occurred in Michigan, nine in Texas, and eight in California.
Although approximately 72 percent of all cases were reported to local police within the legally required 2-hour timeframe, 28 percent were not.
According to federal law, anyone who suspects a crime has been committed against a nursing home resident causing serious bodily injury must report their suspicions to local law enforcement within two hours or less. If the abuse does not involve serious bodily injury, they have 24 hours to report the incident. A failure to follow these reporting incidents can result in fines up to $300,000.
However, although the law has been in place for more than five years, OIG investigators found that the CMS has not enforced the rule and that the organization has inadequate procedures in place for handling reports of abuse.
Even in the 96 cases that were ultimately reported to law enforcement, OIG investigators could not determine if they had been reported within the required time limits.
Furthermore, in some cases, nursing homes not only failed to report incidents causing serious harm to residents, but also took measures to hinder investigations into the incidents.
In one case, nursing home staff bathed a resident and changed her clothing after she was sexually assaulted in the home, essentially destroying all evidence of the event. Staff informed the victim's family of the incident the next day but never reported it to police. It was the family that reported the incident to police. Even then, the nursing home attempted to discourage an investigation of the event.
Improving Nursing Home Abuse Reporting
Approximately 1.4 million people live in nursing homes throughout the U.S. Unfortunately, the cases reviewed in the OIG report represent only a small portion of the abuse that likely exists. These cases were only discovered because victims were treated in emergency rooms. It is likely that more abuse goes unreported.
To help combat this, the OIG recommends the CMS use the same process its investigators did to identify cases of abuse: cross-referencing nursing home residents' Medicare claims with emergency room claims to see if a patient filed claims for emergency care and nursing home care.
Contact Our Nursing Home Abuse Lawyers Now
Nursing home abuse should never go unreported, or unpunished. The Palm Beach County nursing home abuse lawyers of Gordon & Partners fight to hold negligent caregivers and facilities accountable for the harm they have caused. Let us represent your loved one in your fight for justice.
We offer free, no-obligation consultations so you can learn the options available to your family when facing nursing home abuse. Cases are accepted on contingency, which means we are only paid if we recover compensation for you.
Call 1 (855) 722-2552 or complete our WRITE SOME TEXT HERE now.