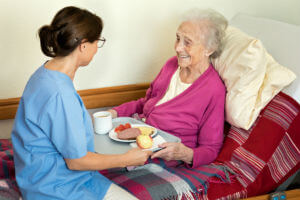 Swallowing food can be difficult for some patients residing in nursing homes – because of this common issue, it is critical that residents are monitored during meal times to prevent choking. Nursing homes that do not enforce dietary restrictions or fail to keep an eye on residents while eating are putting patients at a risk of choking, which may lead to injury or death.
The Nursing Home Abuse attorneys of Gordon & Partners fight to obtain justice for the victims of choking accidents and other harm resulting from neglect or abuse in a nursing home setting. If your loved one has been harmed, contact us today to discuss your case.
Choking Incidents Common in the Elderly
With more than 50 muscles and nerves involved in the process of swallowing, there can be many reasons a nursing home resident experiences swallowing issues, including:
Neurological disorders, including muscular atrophy, multiple sclerosis and Parkinson's disease
Neurological damage caused by brain or spine injuries, or stroke
Cancer, including radiation treatments
Alzheimer's disease
Aging
Choking occurs when medications or food enter the windpipe instead of traveling to the esophagus. When this happens, a person's air supply is restricted, which if not handled immediately and correctly, can cause brain damage or death if the patient's air supply is restricted for too long.
Preventing Choking Accidents
Nursing homes have a duty to ensure the safety of patients, which includes taking appropriate precautions to prevent patients from choking.
Patients with swallowing difficulties should be examined by their doctor to diagnose the severity of the issue. A doctor may prescribe a specialized diet and monitoring to prevent choking – these instructions should be in the patient's chart and nursing home caregivers should be aware of the modifications.
It is the staff's responsibility to ensure that the patient is only given food that is allowed for his or her diet and that the patient is monitored any time he or she is given food or medication. This is vital so that staff can quickly identify and treat choking incidents.
If a staff member is underqualified or improperly trained on how to handle these types of patients and situations, the patient could experience a choking incident, which could lead to severe injuries or death.
Furthermore, understaffed nursing homes could lead to choking incidents that go undetected and untreated, as residents may be left unattended while eating.
In either scenario, the nursing home could be held responsible for the harm done to the patient. It is the facility's responsibility to keep nursing home residents safe at mealtimes.
Hold Nursing Homes Accountable
The South Florida nursing home abuse attorneys of Gordon & Partners fight to protect nursing home residents from abuse. If your loved one has suffered an injury or death due to neglect or abuse in a nursing home setting, we will pursue justice and work to hold responsible parties accountable for the harm they have caused.
Schedule a free, no-obligation consultation to learn the legal options available to you. Cases are taken on a contingency basis – you do not pay unless we recover compensation for you.
Call 1 (855) 722-2552 or complete our Free Case Evaluation form now.