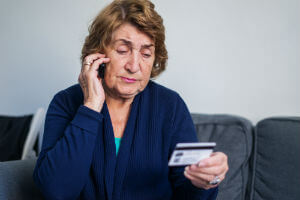 Financial abuse is the most common form of elder abuse, according to the National Center on Elder Abuse. This includes stealing or misusing an elder's funds, often by taking advantage of an elderly individual who is vulnerable due to age or disability.
Unfortunately, nursing home residents are particularly susceptible to elder financial abuse because they often suffer from cognitive impairment and many are unable to report the situation.
At Gordon & Partners, our West Palm Beach Nursing Home Abuse attorneys are dedicated to protecting vulnerable nursing home residents from all types of abuse. If you believe your loved one is a victim of financial abuse in a nursing home, we will take all steps necessary to help the resident receive the justice he or she deserves. Contact our attorneys as soon as possible to discuss your claim during a free, no obligation consultation.
What Is Elder Financial Abuse?
Elder financial abuse occurs when someone steals or misuses an elderly person's finances or assets without the victim's permission or understanding.
Often, people who commit elder financial abuse are those who are in a position of trust with the victim. This includes:
Spouses
Children
Grandchildren
Caregivers
Financial planners
Fiduciaries
Nursing home staff members
In many situations, elderly victims of financial abuse do not realize they are being exploited.
Examples of Financial Abuse
There are several different forms of financial abuse committed against nursing home residents, including:
Stealing
This type of abuse occurs when the abuser takes or spends the victim's money, financial assets or other possessions without his or her permission.
This type of financial abuse also includes acts of fraud, such as forging the individual's name on financial statements or writing checks made out in the victim's name to themselves.
Misappropriating Funds
Another common form of elder financial abuse occurs when the abuser misappropriates the victim's funds or financial accounts.
This can include stealing the nursing home resident's identity, signing up for a credit card in the victim's name, or cashing a resident's checks without his or her permission.
Additionally, the abuser may try to manipulate or coerce a nursing home resident to transfer over his or her property or financial assets.
Changing the Victim's Estate Plans
This form of financial abuse often occurs when the abuser convinces the victim to change or alter his or her estate plan, will or other important type of financial document.
Typically, the abuser will try to assume some authoritative position over the victim. This can include the abuser granting himself or herself power of attorney to manage the victim's finances or as a beneficiary in the victim's will.
Institutional Abuse
In some cases, a nursing home may commit financial abuse against its residents. This can occur when the nursing home charges residents for:
Services the residents never received
Unreasonably expensive medications
Necessary medical care the residents never receive
Additionally, nursing homes may try to duplicate their residents' bills to overcharge them for simple or necessary services.
Signs of Financial Abuse
One way to minimize the effect of elder financial abuse is to recognize it when the signs first emerge. Some indications that a nursing home resident may be the victim of financial abuse include:
The elderly individual does not recognize transactions
A new name has been added to a bank account or as an authorized signer of an account
Unexplained losses of property, financial assets or money
A change in banking behavior, such as more cash transactions or frequent ATM withdrawals
Unpaid bills and disconnected services due to failure to pay
Notes on the memo line of checks that a transaction was for a loan or gift
Change of address for where the bank statement is sent
Elderly individual is reluctant to discuss finances
Living conditions are substandard for the elderly individual's income level
Sudden changes to victim's estate plans
Charges for medical services that never occurred
If you spot any of these signs, investigate the situation and take additional measures to prevent further financial abuse.
What to Do if Your Loved One Is Being Abused
If you suspect a nursing home resident or elderly person is being financially abused, you should take measures to end the abuse immediately.
If you believe your loved is being financially abused in his or her a nursing home by a staff member or caregiver, immediately report your concerns to the nursing home's administrative staff. This may help stop the abuse and may prevent the abuser from exploiting other residents in the facility.
Additional steps you can take to stop the abuse include closing compromised bank accounts or credit or debit cards and freezing the victim's accounts until the issue is resolved.
You should also strongly consider seeking legal representation immediately to protect your loved one and hold the abuser accountable for financial elder abuse.
Contact a Nursing Home Abuse Lawyer
If you think your loved one is being financially abused in a nursing home, contact Gordon & Partners as soon as possible to discuss your legal options.
Our skilled nursing home abuse attorneys are dedicated to helping elderly victims of fraud and financial exploitation. We will conduct a thorough investigation of your claim to determine if your loved one is a victim of financial abuse or elderly exploitation.
We will provide you with a free, no obligation consultation to review the circumstances surrounding your loved one's financial exploitation and determine the legal options available to you. All of our work is provided on a contingency fee basis, meaning we will not charge you upfront legal fees, and you only pay us if we recover compensation for your claim.
Call 1 (855) 722-2552 to schedule you free, no obligation consultation.