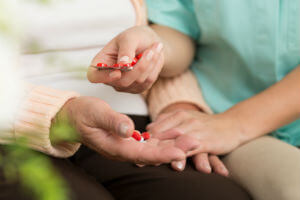 A medication error is a mistake in prescribing or administering medications. When nursing homes are understaffed and staff members are feeling tired and overworked, it is more likely that medication errors can happen, which can severely impact a resident's overall health and well-being.
If your loved one was harmed by a medication error in a nursing home, do not hesitate to reach out to our licensed home abuse lawyers at Gordon & Partners. During a free and confidential consultation, we can review your situation and see whether you may be eligible to take legal action.
Medication Standards for the Elderly
All nursing homes are required to maintain a medication error rate below five percent. While minor medication errors are not that uncommon, residents should remain free of severe medication errors. Medication errors occur when the medication is prescribed, given or administered in a way different than instructed by the doctor or the manufacturer.
Some common medication errors include:
Giving the wrong medicine to the resident
Not giving enough medication to the resident
Not giving the resident medication at the right time or rate
Not administering the medication in the way authorized
Not checking if the medication poorly interacts with resident's diet
Not closely supervising residents taking new medication
Errors in lab work or mislabeling medications
How Medication Is Administered
Nurses in nursing homes are often responsible for administering medication to many residents. Typically, how he or she completes a "med pass," which is the process of dispensing medicine to residents as ordered. The nurse often places each resident's medication onto a rolling cart and gives this medicine to each resident. This process may take several hours to complete from start to finish. Staff should also keep records of completing each med pass.
Undermedication by Caregivers
Undermedication occurs when a resident receives less medication than he or she has been ordered to receive. Underdosing residents is one of the biggest medication errors in nursing homes. Problems with undermedication can arise under a variety of situations, including:
Nursing home staff crush or slice medications that should not be split
Nursing home staff fail to provide the resident with food or water to take with the medication
The medication is not properly rolled by staff
Nursing home staff allow residents to swallow sublingual tablets
Medication Errors Due to Understaffing
Understaffing in nursing homes is a significant problem. It creates various issues within the facility. Staff members who do come to work are often stressed and may be overworked. They may be fatigued and make lapses in judgment.
The current staff may even lack the necessary training or knowledge to safely administer medication. They may fail to check the expiration dates on medications and give bad drugs to the residents. Other medication errors caused by understaffing include:
Ignoring medication orders because staff do not have time to carefully review each resident's chart
Poor medication management due to disorganization or inadequate documentation
Giving one resident's medication to another resident because the staff is too tired or lazy
Failing to account for borrowed medication
Stealing the medication for personal use
Proving a Nursing Home Acted Negligently
In order to seek financial compensation resulting from a medication error, you must be able to prove the nursing home acted negligently. This can be difficult to do without legal representation. If you have a valid claim, a lawyer from our firm can conduct an investigation into the incident. He or she will need to review all of the resident's medical records related to the medication error.
It may also be necessary for him or her to hire a medical expert witness who can explain how the medication error was made, how it could have been avoided and the consequences it caused. If it can be demonstrated that the nursing home acted in a negligent manner, it may be possible for you to recover compensation on behalf of your loved one.
Learn More About Your Legal Options
Nursing home abuse cases are often complex. This is why we recommend that you contact our experienced legal team at Gordon & Partners as soon as possible. We can discuss the legal options available to you during a 100 percent free consultation. There is no obligation to pursue legal action.
We charge no upfront fees and work on a contingency-fee basis, so you pay us nothing unless we help you recover compensation. We are available 24/7 to take your call or chat online.
Contact our office today by calling 1 (855) 722-2552.