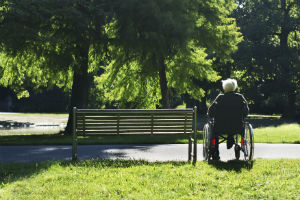 A Pinellas Park, Florida, nursing home is under investigation for the death of a wheelchair-bound resident who suffered dehydration, second-degree burns and blistering after being left in the sun for several hours.
If a loved suffered any injuries due to nursing home neglect or abuse contact one of our knowledgeable Nursing Home Abuse attorneys can help you seek justice if your loved one has been subjected to abuse, neglect or poor quality of care while residing in a nursing home.
According to police, the 65-year-old immobile resident of GraceWood Rehabilitation and Nursing Care spent several hours in the sun as temperatures reached well into the 90s. He died in a hospital later from heart failure.
The man had no living relatives, but his healthcare proxy, which serves as a guardian for impoverished patients, reported that no one from the facility notified them that their patient had died. Instead, they were notified by the hospital.
With a number of lingering questions about how and why the man was left in the sun for so long, the proxy has stated that it has lost trust in the facility and will be removing its 10 remaining patients from GraceWood.
Pinellas Park police and a number of state departments are investigating the matter to determine if abuse was a factor in the death.
A History of Abuse
GraceWood has been on the state's "watch list" of problem facilities for several years for its failure meet the minimum standards of care during inspections.
Records show the facility has been fined a minimum of three times for poor care since 2012. In 2014, it reached a $2,500 settlement with the state's Agency for Health Care Administration over claims of hazardous use of mechanical wheelchair lifts.
A June 2014 complaint reported that a 93-year-old resident died from injuries sustained after falling from a mechanical lift. In another 2014 incident, a resident required staples to their head after falling from a lift.
In 2012, the facility did not challenge allegations that it failed to address fractures to a resident's leg by not telling a doctor and not reporting the resident's claims of abuse.
This year, the facility did not contest accusations that it has failed to properly address residents' dental needs. Two residents complained of tooth decay and broken teeth, but there are no records of any dental care.
The Agency for Health Care Administration ranks the facility in the bottom 20 percent of facilities in its area for poor administration, poor quality of care and life, and in overall rankings. Medicare.gov also ranks the facility poorly overall and for health inspections.
For a free case review, call 1 (855) 722-2552 or complete a Free Case Evaluation form.