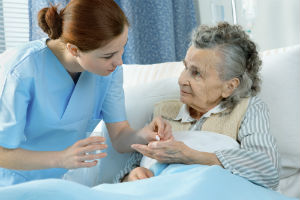 A recent study has found that a small percentage of nursing home residents carry a multi-drug resistant bacteria without showing any signs or symptoms. When they are admitted to the hospital, they can unknowingly spread this often deadly, drug-resistant bacteria.
Has your loved one been affected? Our Florida Nursing Home Abuse lawyers will fight to obtain the compensation your family deserves in light of their serious injuries or wrongful death .
The research highlights the necessity of improved infection control practices in nursing homes and hospitals.
Dangerous Drug-Resistant Infections
For the study, which was published in the American Journal of Infection Control, researchers screened nursing home patients who were admitted to Rhode Island Hospital and The Miriam Hospital. They identified patients with a presence of carbapenem-resistant Enterobacteriaceae, a family of germs that is very difficult to treat because of its high tolerance to antibiotics.
Of 500 acute admissions from nursing homes, 23 patients were carrying bacteria highly resistant to drug treatment. Seven of those cases were carbapenem-resistant Enterobacteriaceae. They also determined that the use of a feeding tube was associated with the bacteria presence in the gastrointestinal tract.
Researchers say this information is useful for improving understanding of how drug-resistant bacteria is transmitted between nursing homes and hospitals and for evaluating the use of feeding tubes for this population.
According to the researchers, antibiotic resistance is a pressing problem facing the healthcare world. The failure of antibiotics can lead to extended hospitals stays, more severe illnesses and more medications. There are few treatments available for antibiotic resistant bacteria, which is why infection control is so important for preventing their spread. Some infections can even be deadly.
Changing the Way Antibiotics Are Prescribed
As much as 75 percent of antibiotic prescriptions administered to nursing home residents are inaccurate. Unnecessary prescriptions and incorrect administration of medications can lead to antibiotic resistance.
The Centers for Disease Control and Prevention (CDC) recently issued new guidelines regarding the prescribing of antibiotics in nursing homes. It has provided nursing home care facilities with recommendations designed to minimize incorrect antibiotic usage, to prevent bacteria from becoming resistant to antibiotic treatment, and to stop these infections from spreading.
Wrongfully prescribing antibiotics in a nursing home setting can put patients at risk of complications or even death from drug-resistant bacteria strains.
Call 1 (855) 722-2552 today to schedule a free consultation.