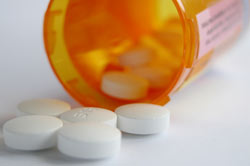 An estimated 1.3 million elderly Americans currently live in nursing homes and approximately 300,000 residents are receiving antipsychotic drugs which begs the question, are residents being overmedicated?
If you believe that your loved one is being overmedicated at a nursing home or if the nursing home failed to obtain informed consent before giving your loved one a dangerous antipsychotic, you may be entitled to file a Nursing Home Abuse claim. Contact one of our skilled personal injury attorneys today for a free legal consultation.
Nursing home residents are often given antipsychotic drugs to suppress anxiety and aggression that can accompany Alzheimers and dementia. However, antipsychotics are mainly approved to treat serious mental illnesses, when given to dementia patients it can increase the risk of heart failure, infections and death.
Federal law prohibits the use of antipsychotics for the convenience of staff and there has to be a documented medical need for the drugs. Should the drugs be used as a last resort, it is suggested that they only be used for a limited amount of time before being gradually eliminated.
Residents and their guardians may not know the drug is needed, and some may not be warned of the risks the resident may face when taking the drugs.
A report by the Office of the Inspector General in 2011 found that 88 percent of Medicare claims for antipsychotics prescribed in nursing homes were for treating symptoms of dementia, even though the drugs are not approved for such use. Additionally, more than 304,000 nursing home residents had at least one Medicare claim for an atypical antipsychotic drug in 2007.
These startling findings brought change in 2008 when the federal government started a campaign to get nursing homes to reduce their use of antipsychotics by 15 percent. Unfortunately, based on the number of residents still taking antipsychotics, the percentage of patients taking these medications has only fallen by 1.6 percent.
In 2010, the New York Times noted that 71 percent of nursing home residents in Florida were receiving a psychoactive medication. Some of these residents were taking four or more of such medications.
At Gordon & Partners we believe that nursing homes and caregivers need to be held responsible when they put residents in danger.
For a free case review, call our firm at 1 (855) 722-2552 or fill out our Free Case Evaluation form.