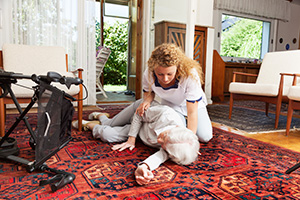 It is estimated that 1,800 people die each year as the result of a nursing home fall. Many people who survive a fall are left with permanent disabilities.
The team of attorneys at Gordon & Partners have successfully tried numerous nursing home cases.
Has someone you love been injured as a result of Nursing Home Negligence ? Do you need accurate, dependable legal advice from a personal injury lawyer in Florida? We can help you get the justice you deserve.
Call 1 (855) 722-2552 for a free claim review.
Fortunately, there are a number of things that caretakers and loved ones can do to prevent nursing home falls. Below is a list of some of the tips that could help.
Have Common Medical Conditions Treated
There are many medical conditions that can increase a resident's risk of falling. Some of those conditions include heart disease, diabetic neuropathy, Alzheimer's Disease and Parkinson's Disease. A person's risk of falling will decrease if they receive proper treatment for those conditions.
Review Prescribed Medications
Many older adults require medication for their condition. Medications help save lives. However, there are many medications that can increase the risk of a fall. Some of those medications include anti-anxiety medications, non-steroidal anti-inflammatory drugs and opioids. It is important for nursing home medical staff to review patients' medications for any prescription or dosage changes.
Implement Changes That Will Make It Easier For People To Get Around
There are a number of changes that can be made in the nursing home environment in order to prevent falls. For example, nursing home staff members can have handrails installed in the bathroom. It is also a good idea to lower the bed heights so that people have an easier time getting in and out of the bed. Additionally, raised toilets and grab bars make it easier for seniors to get up, which can help reduce the risk of a fall.
Exercise
It is important for older adults to engage in regular, moderate-intensity exercise. Exercise can help improve balance and strengthen the muscles. Water aerobics, walking and Tai Chi are examples of low-impact exercises that are great for the elderly. Physical therapy can also help strengthen the muscles, improve balance and reduce the risk of a fall.
How a Nursing Home Neglect Lawyer Can Help
At Gordon & Partners, we are committed to fighting for the rights of the injured. If someone you love was hurt during a fall at a nursing home, the victim may be entitled to compensation for their pain and suffering.
Our team of Nursing Home Abuse attorneys will thoroughly investigate your claim and gather the appropriate documentation and evidence to prove that nursing home negligence was the cause of your loved one's fall.
For a free evaluation of your claim, call 1 (855) 722-2552 or fill out an online contact form.