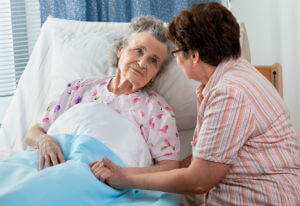 Approximately one in ten seniors will experience some form of elder abuse in their lifetime, according to the National Council on Aging. However, some studies indicate the real number is actually much higher because elder abuse is notoriously underreported. In fact, an estimated one in 14 instances of abuse are never reported at all.
Unfortunately, seniors can be targets of abuse because they may not fully understand what is happening around them or may not have a true voice to fight back against abuse.
However, family members and friends can help prevent elder abuse by engaging in the following activities and contacting our trusted Nursing Home Abuse attorneys in West Palm Beach at the first sign of abuse or neglect.
Be Proactive by Checking on Your Loved One
Regular visits to nursing homes or hospitals can help prevent nursing home abuse. Unexpected visits and thorough review of care procedures can help you spot red flags and address issues long before they cause physical or emotional harm to your loved one.
Frequent visits also show staff that you will be observing and supervising their activities, which often decreases the overall occurrence of abuse.
Keep an Eye out for Warning Signs
Ill-treatment and neglect often have some of the following warning signs.
Sudden weight loss
Withdrawn behavior
Bedsores
Unexplained changes in behavior or mood
Dehydration or malnutrition
Unsanitary or poorly kept conditions
Unexplained bruising or falls
If you see any of these issues with your loved one, address them immediately.
Encourage Your Loved One to Talk to You
Sometimes seniors can be embarrassed or unsure if an abuse situation arises. Be sure to keep an open line of communication between you and your loved one so that he or she feels comfortable reporting any potential issues to you.
Take your loved one seriously when he or she expresses concerns and investigate accordingly. Unfortunately, loved ones sometimes write off seniors' complaints as being untruthful or nonsense, when they are actually expressing serious concerns and safety issues.
Immediately Report Abuse and Neglect
If you think your loved one is not receiving the care he or she needs and deserves, you should report it immediately. The sooner you report nursing home abuse, the sooner changes can be made to protect your loved one.
If you feel that your loved one is in immediate danger, call 911 right away. You should also notify the management of the nursing home.
After securing your loved one's safety, you should file an official report of abuse with the appropriate authorities. You can do this by:
Calling the Florida Abuse Hotline at 1-800-96-ABUSE (1-800-962-2873)
Submitting an online report of adult abuse with the Florida Department of Children and Families
If you have not already reported the abuse or neglect, our attorneys can help you do so and help ensure that the report is detailed and properly handled.
If You Suspect Abuse, Contact Our Nursing Home Abuse Attorneys
You can do a lot to prevent elder abuse. If you suspect that a loved one is being taken advantage of or abused in a nursing home, do not wait to contact our nursing home abuse attorneys. Your loved one may have legal options.
Through a free, no obligation consultation, we will review the details of your claim and help you determine if you can file a lawsuit to help your loved one get the justice he or she deserves.
Our team works only on a contingency fee basis, so you will owe us nothing unless we recover compensation for your case.
Contact Gordon & Donor by calling 1 (855) 722-2552 today.