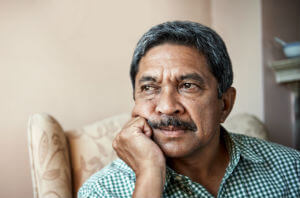 Nursing home residents are at risk of suffering many types of abuse. One common type that can often be difficult to detect is psychological abuse. Although it may not always be immediately apparent, psychological abuse can cause serious harm.
Certain signs can indicate your elderly loved one may be suffering psychological abuse. Schedule a free, no-obligation consultation with our skilled West Palm Beach Nursing Home Abuse lawyers to learn if legal action against negligent caregivers is an option for your family.
What Is Psychological Abuse?
Psychological abuse, also called emotional abuse, refers to any actions that make a victim feel fearful, depressed, anxious or intimidated. This type of abuse can occur in situations where an aggressor is in a position of power and takes advantage of that power against the victim. In nursing home settings, aggressors may be staff, caregivers or other residents.
Types of psychological abuses include:
Being isolated from other residents or visitors
Being excluded from activities
Manipulation
Mocking
Being ignored by caregivers
Threats made by caregivers or intimidation
This type of abuse can affect the health and well-being of residents and may be inflicted along with other abuses, such as physical abuse.
Nursing home residents are often susceptible to psychological abuse because they depend on the facility's caregivers and staff for assistance with basic needs.
Nursing Home Residents at Risk
Although any nursing home resident could suffer psychological abuse, there are certain people who could be at a greater risk. These residents include:
Those age 75 and older
Those who have memory problems, causing the inability to recall abuse incidents
Those who experience social difficulties and issues interacting with other residents
Those with long-term health conditions such as paralysis or dementia
Signs of Psychological Abuse
According to the National Center on Elder Abuse, elderly victims who suffer psychological abuse may show signs such as:
Sudden behavioral changes
Depression
Agitation
Withdrawal and lack of interaction with people
Aggression that is random or sudden
Anxiousness
Lack of communication
Behaviors often attributed to dementia such as biting, rocking, mumbling or sucking
Malnourishment
Dehydration
Victims of psychological abuse may be afraid or unable to report a caregiver's actions or tell loved ones their experiences. For this reason, it is important that family members are aware of these warning signs and regularly visit their loved ones.
When behavioral changes come on suddenly, watch your loved one closely and observe their environment. If staff members or residents seem overbearing, this can be a sign your loved one has suffered psychological abuse.
Reporting Nursing Home Psychological Abuse
Psychological abuse may cause trauma that affects the victim for the rest of his or her life. If psychological or other abuse is suspected, it should be reported right away and the victim should be removed from the risk of further harm.
If your loved one is in immediate danger because of the abuse inflicted by a nursing home staff member, resident or caregiver, contact the police right away.
You should also report any concerns of poor care to the managers of the nursing home facility. If nothing is done to correct the situation, contact the Florida Department of Elder Affairs to file a report. Reports can be made by phone, fax or online.
You should then contact at trusted nursing home abuse attorney to learn more about your loved one's legal options.
Contact Our Nursing Home Abuse Lawyers Today
Nursing home residents rely on caregivers for assistance with basic needs. Caregivers who abuse their position by psychologically abusing those dependent on them should be held responsible for the harm they have inflicted on their victims.
At Gordon & Partners, we fight for the rights of victims who have suffered abuse in nursing homes. Schedule a free consultation with our nursing home abuse attorneys today, and we will review your claim to determine if legal action may be taken.
There is no obligation to pursue a case. Should you choose to move forward, we work on a contingency fee basis, providing our legal services with no upfront fees. Payment is only required if we recover compensation in your case.
Call 1 (855) 722-2552 or complete a Free Case Evaluation form now to speak with a seasoned nursing home abuse lawyer.