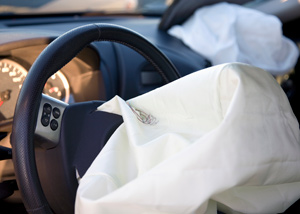 After ruptured airbag inflators were associated with one death and four injuries, Honda quietly asked Takata Corp. to come up with a "fail-safe" airbag design in August 2009.
As required by U.S. law, automakers must tell regulators about possible safety concerns and how to prevent issues. Honda, however, failed to inform the National Highway Traffic Safety Administration regarding the change, choosing to keep the redesign a secret.
The change was revealed in internal memos and presentations showing that both companies knew of the airbag safety concerns five years before one of the largest recalls in automotive history began in 2014.
Because of their decision to hide this important information, Takata and Honda could be increasingly vulnerable in more than 100 pending lawsuits alleging the defective Takata airbag inflators were responsible for deaths and injuries.
Downplaying Fault
Honda and Takata have tried to avoid liability for the secretive design change. Honda claims it did not inform federal regulators because the modification was only to prevent future manufacturing mistakes, and was not an acknowledgement of a design defect.
Takata confirmed that it deployed and tested newly redesigned inflators at a customer's request, but would not answer detailed questions regarding Honda's explanation.
The modified design incorporated vents into the inflators to divert explosions away from drivers' necks and torsos.
Massive Airbag Recall
Takata's faulty airbags have been shown to explode, violently shooting metal shards into vehicles' cabins. Eight deaths and 90 injuries have been associated with defective airbags in the United States.
Honda was Takata's largest customer and has recalled 8.5 million vehicles so far.
Federal cases have been consolidated in a Miami court and will address claims related to deaths, injuries and diminished vehicle value. Trials are set to start in 2017.
If you have been hurt due to a defective airbag or another product, contact Gordon & Partners to learn more about your legal options and to have a skilled personal injury lawyer review your claim for free.
Call 1 (855) 722-2552 or complete a Free Case Evaluation form.