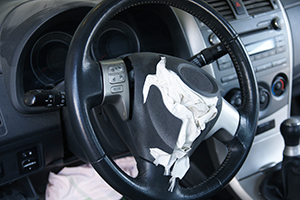 In one of the largest automotive recalls in U.S. history, Takata recalls nearly 34 million cars for defective airbags.
A personal injury lawyer from our firm can help you fight for your rights. You may be entitled to compensation for medical expenses, lost wages and mental anguish. For a free review of your claim call 1 (855) 722-2552.
Regulators say the defective Takata airbags explode with so much force shrapnel has been sent flying into automobiles. Officials say the faulty driver and passenger side airbags have been linked to at least six deaths, including five in the U.S., and more than 100 injuries worldwide.
Our expert team of attorneys have been representing the injured since the very first Takata incident. We make every effort to walk our clients through the litigation process and we strive to hold responsible parties accountable.
Is your vehicle on the list?
Officials say vehicles equipped with faulty Takata airbags represent almost 14 percent of the roughly 250 million vehicles in the nation. Honda, Nissan, Fiat Chrysler, Toyota, BMW, Mazda, Ford, General Motors, Subaru and Mitsubishi are included in the recall.
At this point, the U.S. Department of Transportation and National Highway Traffic Safety Administration (NHTSA) is waiting for automakers to supply them a complete list of affected vehicles. However, the NHTSA is urging all owners of suspected vehicles to contact their dealers immediately and not to drive with passengers until their airbags have been replaced.
If you or a loved one has been harmed as a result of a faulty airbag, call our Takata airbag injury lawyers today. Known for getting results, turn to the lawyers you can trust to get you the compensation you deserve.
Call 1 (855) 722-2552 or complete the Free Case Evaluation form today.