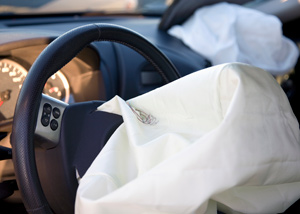 Five of at least one dozen lawsuits filed on behalf of victims of Takata airbags were settled confidentially before relevant information could be revealed in court, according to Bloomberg. Settling these claims out of court keeps damaging information out of the hands of outsiders as court documents are of public record.
Furthermore, another case against Takata is currently in review for a possible settlement, another is in mediation and another has been dropped.
Many of the details surrounding defective Takata airbags is already murky. Some safety advocates blame Honda for failing to recall vehicles with these defective airbags quickly enough while others blame the National Highway Traffic Safety Administration for failing to investigate Takata properly back in 2009.
Bloomberg notes that at least two of the Takata settlements in 2009 were linked to the defective airbags. Another, in 2011, involved a victim whose carotid artery was cut when her airbag unexpectedly exploded. One lawsuit that Takata Corp. is currently trying to get settled involves a victim who suffered eye injuries after a metal fragment lodged into her right eye when the airbag deployed.
The family of Hien Tran has filed a lawsuit against Takata Corp. and Honda Motor Co. alleging that Honda told car dealers not to recall defective Takata airbags. Because not all part numbers are available in abundant supply, American Honda asks that dealers do not proactively contact customers at this time, the company's technical division wrote in a message. The statement from Honda was sent out just one week before the Florida woman was killed when her airbag exploded.
At a Senate hearing on Nov. 20, Stephanie Erdman, a Destin, Fla., woman who suffered facial injuries in Sept. 2013 when the drivers side airbag in her Honda Civic exploded after an accident spoke out about her experience.
Democratic Sen. Bill Nelson of Florida, who chaired the hearing, also complained that the drivers of recalled vehicles remain in danger as not enough replacement parts are available. He also called on automakers to provide rental cars for models that cannot be immediately fixed. Only about six percent of the affected vehicles recalled have been repaired so far.
The airbag recall lawyers at Gordon & Partners will continue to monitor and report on any developments in the Takata airbag saga. If you or someone you love was injured by one of these defective airbags, contact a personal injury attorney at our law firm today for a FREE legal consultation.
Call 1 (855) 722-2552 or fill out our Free Case Evaluation form.