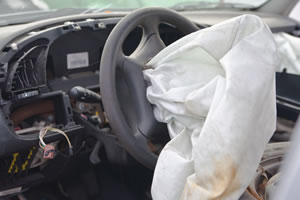 Takata, one of the worlds largest manufacturers of auto safety parts, is facing the largest civil penalty in U.S. history over its faulty airbag scandal, linked to eight deaths and more than 100 injuries.
The National Highway Traffic Safety Administration has issued two consent orders toTakatato protect consumers from the manufacturers ammonium nitrate inflators, which have been shown to explode violently and send shards of mental throughout a vehicle.
The first imposes a record civil penalty of $200 million and requires thatTakatastop manufacturing and selling the volatile airbag inflators.
The manufacturer must pay $70 million up front in cash. The remaining $130 million will have to be paid ifTakatafails on its commitments or has any more violations of the Motor Vehicle Safety Act.
Takatafirst violated the Safety Act when it admitted that it knew about the defective part, butfailed to issue a recallor to warn consumers.
The company will also face unprecedented oversight for the next five years, including an independent monitor to track and report on the company's compliance with the requirements of the order.
The second consent order requires thatTakataand the 12 manufacturers involved in the recall prioritize fixes for the affected vehicles based on risk and establishes a schedule by which all fixes need to be completed. The auto makers should have the replacement parts on hand by March 2016 and the replacements should be completed by the end of 2019.
TheNHTSAwill oversee that these demands are met, marking the first time inNHTSAhistory that the agency has used the full extent of its powers to accelerate the recall and repairs process.
Despite all of this,Takatastill refuses to admit that it has done anything wrong or that its airbags are defective.
In response to the company's misrepresentation and manipulation of test data, several of its largest customers, including Honda and Toyota, have either dropped the airbag supplier completely or will no longer use its ammonium nitrate inflators. Additional Japanese auto makers are planning to follow suit.
If you or someone you love has been injured because of a faulty Takata airbag or another defective product, our experienced team of personal injury lawyer s can help you get the compensation you deserve.
Call1 (855) 722-2552or complete aFree Case Evaluation formtoday.